What is Harvest of the month and why should I participate?
Illinois Harvest of the Month is all about celebrating local food – grown right here in Illinois or in a neighboring state – while encouraging healthy eating and a love of veggies! School districts or individual schools, afterschool or summer programs, early childcare, residential programs (including JJCs) and garden programs are all welcome to participate – any program where you're feeding or educating children. 
Registering for Harvest of the Month is free and our expertise is on tap for direct consultations. When you request a site password you gain full access to resources related to Illinois-specific harvest items. This includes: recipes (with food service proportions already calculated, recipes for CACFP requirements, and smaller portion recipes for sharing with families), fun facts and nutrition facts, curriculum resources and materials, extension kits to help you connect to local grocery stores and your kids at home, tips on how to integrate harvest celebrations into cafeterias and classrooms, and networking connections to other sites with similar programming.
Here's a sneak peek of just a few of the resources offered. When you're ready you can request a password at farmtoschool@sevengenerationsahead.org:
June tips email featuring: Plums, Strawberries, Cherries and Green Beans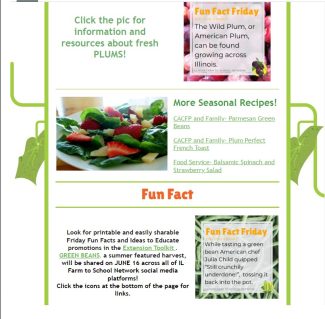 CURRICULAR CONNECTIONS AND ACTIVITIES for spinach
Early childcare/preschool:
Spinach Lane from the USDA. Click here to view the PDF of the lesson plans and activities.
K-12: