Carrot Fries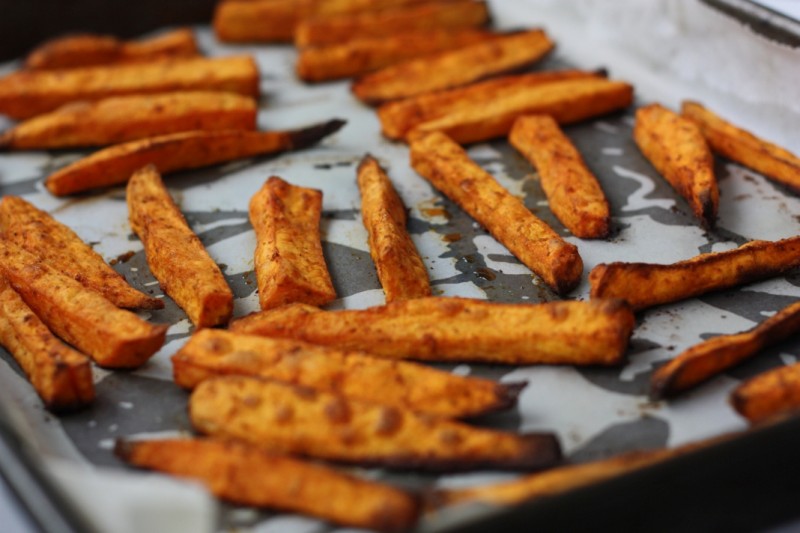 This versatile veggie makes a fantastic French fry!This is an autumn family recipe for carrots.
Prep Time

5 min

Cook Time

15 min

Total Time

20 min

Yield

6
Ingredients
1 pound carrots, peeled and cut into thin sticks
1½ Tablespoons vegetable oil
¼ teaspoon ground oregano
1-2 cloves chopped raw garlic
Method
1
Preheat oven to 400 degrees.
2
Toss carrots with all a combination of the other ingredients: oil, butter, salt, oregano, pepper, and garlic.
3
Roast at 400 degrees on a parchment-covered baking sheet, stirring twice during cooking, approximately 15 minutes until tender but not mushy.
4
Serve with your favorite dipping sauce, or just enjoy the sweet caramelized flavors without added calories!
When you roast carrots, as well as other root vegetables, the natural sweetness of the vegetable is intensified through caramelization or cooking for a short time at high heat.

Trying a different vegetable "French fry" can be an eye-opening experience for children. These carrot fries are so flavorful a dipping sauce is not needed. Try them without dipping sauces first, to allow your children to taste the fresh, caramelized vegetable in all its glory!
Nutrition Facts

6 servings per container

Amount per serving

Calories

0

% Daily Value*

* The % Daily Value (DV) tells you how much a nutrient in a serving of food contributes to a daily diet. 2,000 calories a day is used for general nutrition advice.
Save this recipe: