Quick Pickled Beets
USDA Meal Components: ¼ c other vegetable.
This is a February school recipe for beets.
Cooking and prep level: Basic.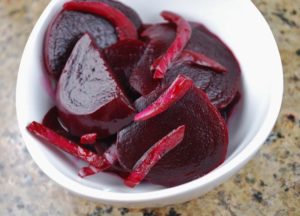 Author:
Adapted from Gunnison Community and Lake Schools, Colorado. Colorado Schools Harvest of the Month menus provided by Mountain Roots Food Project.
Cuisine:
A great way to get kids interested in trying beets and educating on food preservation methods!
Recipe type:
Cold Vegetable Dish- HACCP Process 2
Prep time:
Cook time:
Total time:
Ingredients
12 lbs Beets, steamed, peeled, halved and sliced
8 small Onion, red sliced
4 cups Red Wine Vinegar
2 cups White Sugar
6 pieces Cinnamon Sticks
25 whole Black Peppercorns
10 whole Cloves, whole
Instructions
CCP: Heat Ovens: Conventional oven: 350 °F, Convection oven: 350 °F
To steam beets: wrap washed, individual beets in foil. place in large pan. Bake: Conventional oven: 350 °F for 1-hour Convection oven: 350 °F for 45 minutes until softened.
Cool completely. Remove beets from foil.
To remove skins: slice off the tail end of beet. Grasp top end and squeeze until jacket releases.
To Pickle: Combine onion, vinegar, sugar, and spices in a pan. Bring to a boil, stirring well, over med-high heat.
Cover, reduce heat to med-low and simmer for 4-6 minutes until onion is tender-crisp.
Add sliced, peeled beets to pan. Stir.
Place beet mixture in a bowl and let stand, stirring occasionally, for 30 minutes.
CCP: Cool beets to a minimum of 41°F.
Serve beets strained, cold.
Notes
Nutrition and food education begins with fresh, local foods and builds from there. Adding a pickled vegetable dish to your menus gives you an opportunity to educate your student customers on the various methods of preserving foods.

Sharing a timeline of preserving techniques on a poster in the cafeteria, or on your meal lines, will help to create interest in your pickled veggie dish. Sharing common food preserving methods in a classroom demonstration with younger students, and then providing a taste test, gives you the opportunity to expose those students to the vegetable more than once. Success in the acceptance of a new vegetable relies on the number of exposures a child receives, and the amount of fun and interest you bring to the lesson!
Nutrition Information
Serving size:
¼ cup
Calories:
17
Fat:
0
Saturated fat:
0
Unsaturated fat:
0
Trans fat:
0
Carbohydrates:
4 g
Sodium:
9 mg
Fiber:
.4 g
Protein:
0
Cholesterol:
0