CENTRAL VALLEY HARVEST BAKE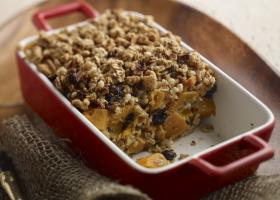 This recipe combines regional veggies with black beans in a casserole style side dish that bursts with flavor!This is an autumn school food service recipe for Butternut Squash, Hot Peppers, and fresh Herbs.Cooking and prep level: Complex.Adapted from the USDA Mixing Bowl, Joshua Cowell Elementary School Manteca, California
Prep Time

40 min

Cook Time

50 min

Total Time

1 hr 30 min

Yield

100

Serving Size

1/2 cup

Energy

97 cal
Course

USDA Meal Components

Red/Orange: ⅛ cup
Other Veg: ⅛ c
Meat/Meat Alt: ½ oz OR Legume Veg:1/8c
Grains: ¼ oz
Red/Orange: ⅛ cup
Other Veg: ⅛ c

Diet
Ingredients
21 lbs Butternut Squash peeled, cubed ½ inch pieces
½ c 2 T Extra virgin olive oil
1 lb ½ oz Red Onions, diced
3 oz Jalapeno Peppers, finely diced
1 lb 1 oz Red Bell Peppers, diced
2 lb 2 oz Canned low-sodium black beans, USDA drained, rinsed
1 ¼ cups Oregano, fresh, chopped
2 lb Low-fat dry granola, no fruit
Method
1
CCP: Preheat oven: Conventional oven: 375 °F, Convection oven: 350 °F
2
Toss squash in half of the oil. Place on sheet pans. For 50 servings, use 2 pans. For 100 servings, use 4 pans
3
Roast uncovered until lightly brown around the edges: Conventional oven: 375 °F for 30 minutes Convection oven: 350 °F for 22 minutes.
4
CCP: Hold at 135 °F or higher.
5
Toss onions, jalapeno peppers, and red peppers with remaining oil.
6
Line a sheet pan (18x 26x 1) with aluminum foil or a nonstick pan liner. Spread the vegetable mixture on a sheet pan.
7
Roast: Conventional oven: 375 °F for 15 minutes Convection oven: 350 °F for 10 minutes Check mixture after 10 minutes. Cook vegetables until they soften and turn brown around the edges. DO NOT OVERCOOK. Remove from oven.
8
CCP: Hold at 135 °F or higher.
9
Rinse quinoa in a fine mesh strainer until water runs clear, not cloudy.
10
Combine quinoa and water in a covered saucepan and bring to a boil.
11
Reduce heat to low and simmer until water is completely absorbed, about 15 minutes. When done, quinoa will be soft and a white ring will pop out of the kernel. The white ring will appear only when it is fully cooked.
12
Combine squash, black beans, quinoa, and oregano. Mix in applesauce, salt, and lime juice.
13
Fold in onion and pepper mixture.
14
Lightly coat steam table pan (12x 20x 2 ½) with pan release spray.
15
Pour mixture into the pan, pressing to gently to pack. For 50 servings, use 2 pans. For 100 servings, use 4 pans. Sprinkle granola evenly over the top.
16
Bake until heated through and granola is lightly browned: Conventional oven: 375 °F for 30 minutes Convection oven: 350 °F for 22 minutes.
17
CCP: Heat for 135 °F or higher for at least 15 seconds.
18
CCP: Hold for hot service at a minimum of 135 °F.
Can you eat a Butternut Squash raw?
Yes! Eating raw butternut squash is safe. It is sometimes grated, or sliced thinly, into salads or coleslaws.

What's in a name? 
The most popular variety, the Waltham Butternut, originated in Waltham, Massachusetts, where it was developed at the Waltham Experiment Station by Robert E. Young. 
Dorothy Leggett claims that the Waltham Butternut squash was developed during the 1940s by her late husband, Charles Leggett, in Stow, Massachusetts, and then subsequently introduced by him to the researchers at the Waltham Field Station. She also claimed that name came from the squashes flavor being "smooth as butter, and sweet as a nut".
Nutrition Facts

100 servings per container

Serving Size

1/2 cup

Amount per serving

Calories

97

% Daily Value*

Total Fat

1.92 g

2.46%

Saturated Fat

0.32 g

1.6%

Cholesterol

0 mg

0%

Sodium

114.57 mg

4.98%

Total Carbohydrate

20.26 g

7.37%

Dietary Fiber

3.65 g

13.04%

Protein

2.03 g

4.06%

* The % Daily Value (DV) tells you how much a nutrient in a serving of food contributes to a daily diet. 2,000 calories a day is used for general nutrition advice.
Save this recipe: