RED POTATO SALAD WITH LEMON & GARLIC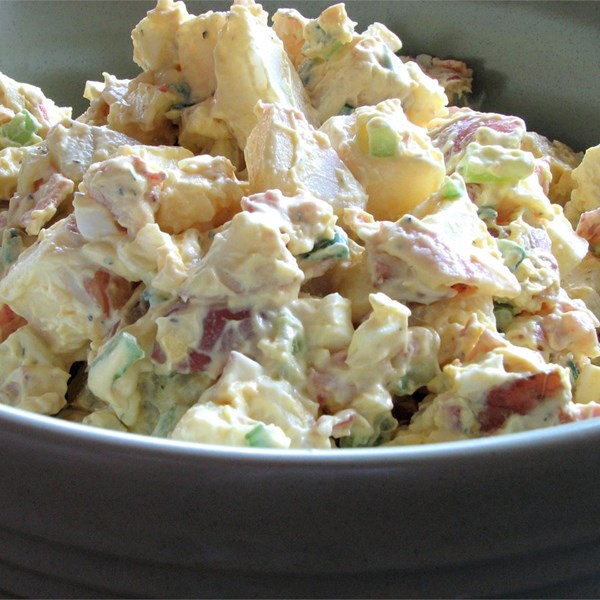 This recipe elevates standard potato salad with the bright flavor of lemon and the earthy flavor of garlic.This is an autumn school food service recipe for potatoes.Cooking and prep level: Basic.
Prep Time

1 hr 20 min

Cook Time

30 min

Total Time

1 hr 50 min

Yield

100

Serving Size

1/2 cup (3.1 oz)

Energy

99 cal
Cuisine

Course

Main Course
Lunch
Cold Vegetable Dish

USDA Meal Components

Diet
Ingredients
15 lbs Potatoes, fresh, baby red skin
2 cups Scallion (green top onion), fresh, chopped
3 Tbsp 1 tsp Garlic, fresh minced (about 10 cloves)
⅔ cup Apple Cider, sweet fresh (you can sub apple juice, if needed)
¼ cup 1 Tbsp Cider Vinegar
3 Tbsps 1 tsp Mrs.Dash Onion & Herb Seasoning Blend
Method
1
Boil (or steam) potatoes until just fork tender approximately 30-45 minutes.
2
Cool, cut into ½ inch cubes, leaving skins on.
3
CCP: Reduce potato temperature to 41°F within 4 hours. Hold at a minimum temp of 41°F. This step may be done 1 day prior to service.
4
In a large tote, combine potatoes and scallions. Toss gently to combine.
5
Combine mayo with cider vinegar, lemon juice, and fresh apple cider. Add fresh garlic, salt and seasoning blend. Allow dressing to rest for 15 minutes to meld flavors. After resting time, taste for seasonings. Adjust if needed.
6
Combine potato mixture and dressing. Lightly fold dressing into vegetables until combined, being careful not to break apart potatoes.
7
CCP: Hold at a minimum temp of 41°F.
Would you like to learn all about the history of the glorious potato? 
Check it out here: youtube.com
Nutrition Facts

100 servings per container

Serving Size

1/2 cup (3.1 oz)

Amount per serving

Calories

99

% Daily Value*

Total Fat

4 g

5.13%

Saturated Fat

1 g

5%

Trans Fat

0 g

Cholesterol

4.7 mg

1.57%

Sodium

216 mg

9.39%

Total Carbohydrate

14.21 g

5.17%

Dietary Fiber

1.6 g

5.71%

Total Sugars

1.4 g

Protein

1.5 g

3%

* The % Daily Value (DV) tells you how much a nutrient in a serving of food contributes to a daily diet. 2,000 calories a day is used for general nutrition advice.
Save this recipe: