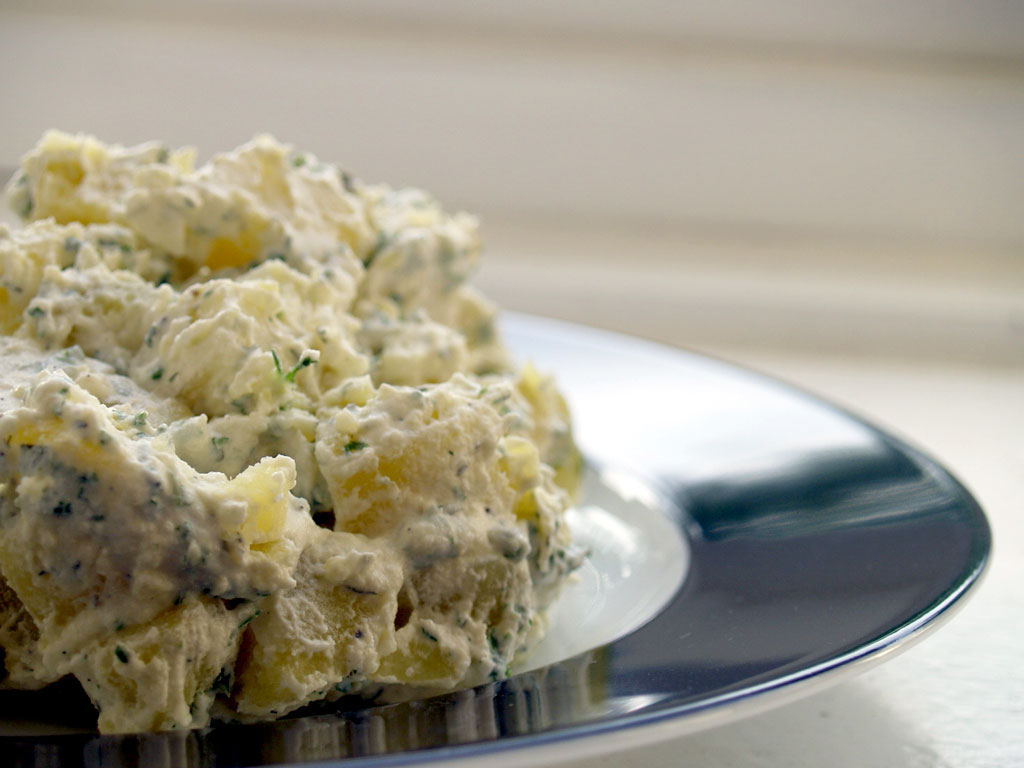 With the addition of an easy homemade spice blend this recipe shines a spotlight on a student favorite; Ranch.This is an autumn school food service recipe for Potatoes and for Spice It Up seasonings.Cooking and prep level: Intermediate.Adapted from USDA Mixing Bowl Recipes
Prep Time

1 hr 30 min

Cook Time

35 min

Total Time

2 hr 5 min

Yield

100

Serving Size

2/3 cup

Energy

145 cal

HAACP Process

3
USDA Meal Components

⅜ cup starchy vegetable
⅛ cup other vegetable

Diet
Ingredients
18 lbs 12 oz Russet Potatoes, well-scrubbed
2 lbs 4 oz Celery, fresh, chopped
15 oz Onion, fresh, chopped
24 whole Eggs, fresh, hard boiled, peeled and chopped
3 lbs 4 oz Salad Dressing, reduced calorie OR 3 lbs 4 oz Mayo, low fat
⅓ cup Ranch Seasoning Mix, homemade
Ranch Seasoning Mix (see below)
Method
1
Boil (or steam) potatoes until just fork tender approximately 30-45 minutes.
2
Cool, peel and dice into ½ inch cubes.
3
CCP: Reduce temperature to 41°F within 4 hours. Hold at a minimum temp of 41°F. This step may be done 1 day prior to service.
4
In a large tote, combine potatoes, celery, onions, and eggs. Toss gently to combine.
5
Combine salad dressing or mayo with dry ranch seasoning mix (recipe directions below.). Allow dressing to rest for 15 minutes to meld flavors.
6
Combine potato mixture and dressing. Lightly fold dressing into vegetables until combined, being careful not to break apart potatoes.
7
CCP: Hold at a minimum temp of 41°F.
Ranch Seasoning Blend: click here.
*Dried buttermilk powder is available at grocery chains, online and at food service distributors.
Want to avoid high levels of sodium and chemical additives? 
It's easy if you make your own seasoning blends! When you stock a full spice rack, it is easy to create combinations that will season your vegetables, proteins, and salads. Look online for spice blend ideas and recipes or create your own blends taking student favorites to a new level.
Dry seasoning blends are shelf stable for the entire school year and can help you to create a tasty and specialized lunch menu for your students. Naming your spice blends after school mascots, using school nicknames or sports and academic team names will personalize your entrees and sides
Adding shakers of spice blends to the service lines allows students to add an extra flavor boost to their lunch selections. Encouraging students to break the salt habit and reach for the spice will help to develop lifelong good eating habits!
Nutrition Facts

100 servings per container

Serving Size

2/3 cup

Amount per serving

Calories

145

% Daily Value*

Total Fat

6 g

7.69%

Saturated Fat

1 g

5%

Trans Fat

0 g

Cholesterol

57 mg

19%

Sodium

141 mg

6.13%

Total Carbohydrate

19 g

6.91%

Dietary Fiber

2 g

7.14%

Total Sugars

13.9 g

Protein

3 g

6%

Calcium

19.7 mg

1.52%

* The % Daily Value (DV) tells you how much a nutrient in a serving of food contributes to a daily diet. 2,000 calories a day is used for general nutrition advice.
Save this recipe: