SPINACH AND STRAWBERRIES BALSAMIC SALAD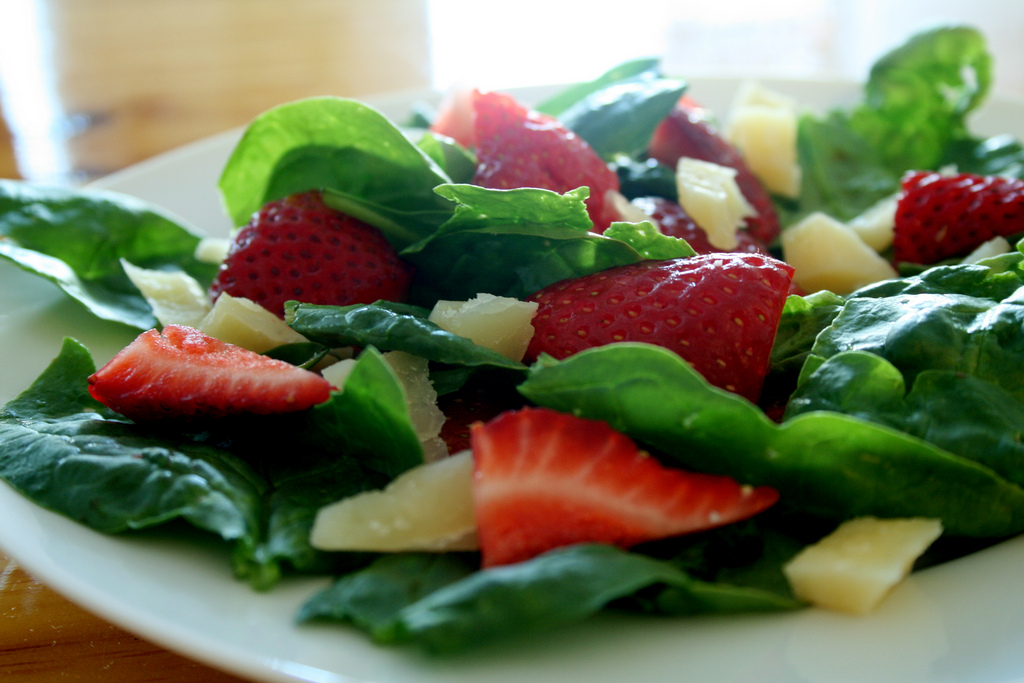 Tangy balsamic vinegar married with sweet maple syrup creates a flavorful salad with seasonal spinach.This is a spring and summer school food service recipe for Spinach, Lettuce, Maple Syrup, Berries, and Cucumbers.Cooking and prep level: Basic.Adapted from New School Cuisine, featured in the Vermont New School Cuisine Cookbook.
Prep Time

1 hr 15 min

Cook Time

15 min

Total Time

1 hr 30 min

Yield

100

Serving Size

1¼ cup

Energy

134 cal
Course

USDA Meal Components

½ cup dark green vegetable
⅛ cup other vegetable
⅛ cup fruit

Diet
Ingredients
2 ½ lbs Sunflower or Pumpkin Seeds (optional)
6 lbs 8 oz Strawberries, fresh
4 lbs 8 oz Romaine lettuce, chopped
12 tbsps local Maple syrup, real
Method
1
Toast seeds in a large skillet, over medium heat stirring often, until beginning to brown. Let cool.
2
Peel cucumbers, cut in half, and then slice ¼ inch thick.
3
Hull strawberries and cut ¼ thick slices.
4
Mix spinach and romaine in a large tub or bowl.
5
Whisk or process (w/ steel blade) vinegar, syrup, mustard, garlic powder, salt, and pepper until combined.
6
Slowly add oil in a stream and continue to emulsify for 10-20 seconds. Set aside.
7
Add strawberries, cucumbers, and seeds to greens. Drizzle dressing, tossing to coat.
9
CCP: Hold at a minimum of 41 F through service.
Do you know how to balance sweet and tart, or sharp, flavors?
The tangy flavor of balsamic vinegar balances the sweetness of real maple syrup creating a perfect fit. By combining fresh spinach (a sharp flavor) and fresh strawberries (a sweet flavor) you create a flavor balance in the salad. Balancing flavors in your recipes creates a complex and pleasing taste profile as opposed to a overly sweet or bitter experience.

Experimenting with spinach recipes in school and at home increases your customers' exposure to the vegetable and allow them to taste fresh, local spinach in raw and in cooked applications. 
A great resource for spinach recipes can be found at PBS.org/recipes
Nutrition Facts

100 servings per container

Serving Size

1¼ cup

Amount per serving

Calories

134

% Daily Value*

Total Fat

10.43 g

13.37%

Saturated Fat

1.2 g

6%

Trans Fat

0 g

Cholesterol

0 mg

0%

Sodium

58.734 mg

2.55%

Total Carbohydrate

8.56 g

3.11%

Dietary Fiber

2.76 g

9.86%

Protein

3.72 g

7.44%

* The % Daily Value (DV) tells you how much a nutrient in a serving of food contributes to a daily diet. 2,000 calories a day is used for general nutrition advice.
Save this recipe: