In Kane County, Harvest of the Month (HOTM) program participant Mooseheart Child & City School has embraced farm to school and has connected IL Harvest of the Month to their school gardens! By incorporating tasting recipes and activities associated with featured HOTM foods to garden harvests and activities, Mooseheart has successfully created a fully integrated program. This child education site is a wonderful example of how Harvest of the Month can be utilized to increase farm to school programming and nutrition education among Illinois students!
In 2019 Mooseheart Child City and School was awarded the SEED level: A powerful beginning in a small package! of participation in Illinois Harvest of the Month. Upon receiving the participation award program managers, Mary Zupke and Kathy O'Brien, purchased cooking equipment to take their program to the next level by creating cooking instruction lessons utilizing garden produce harvested onsite for all of their K-12 residents.  Mooseheart is currently working toward the next level of participation, the Germination level: From small things greatness grows!
For the 4th of July holiday in 2019, Mooseheart students enjoyed a July Tasting Adventure! Students harvested fresh blueberries, a Harvest of the Month featured food, and basil, a new featured HOTM food, from their school garden to create a blueberry basil sorbet (yum!). They also used their blueberries with watermelons and mozzarella for fun holiday-themed skewers. Having the students involved in the process of growing and harvesting their food and connecting it with fun activities around the holiday got them excited about eating fresh fruit and growing healthy food!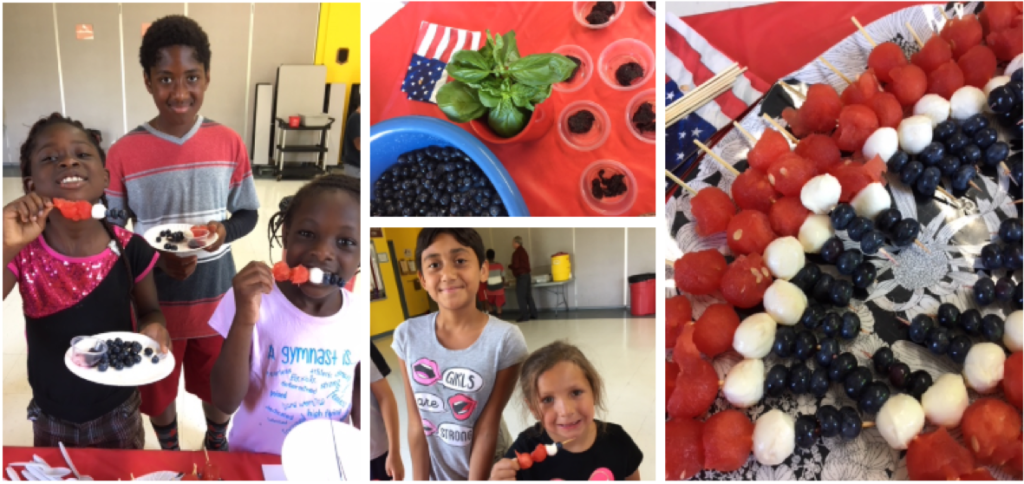 Mooseheart staff shared several new recipes they sampled and got the thumbs-up-approval on from their students. You can view three delicious blueberry recipes here, and the blueberry basil sorbet recipe here. Thank you, Mooseheart, for sharing your program updates and recipes; we can't wait to see what you have planned next!
Would you like to read Mooseheart's garden case study? Click here!