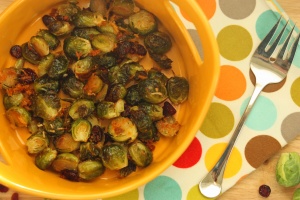 Having trouble getting your customers to try Brussels sprouts? Try this sweet and caramelized rendition to win them over!This is a food service autumn recipe for Brussels sprouts.Cooking and prep level: Basic.
Prep Time

40 min

Cook Time

30 min

Total Time

1 hr 10 min

Yield

100

Serving Size

1/2 cup

Energy

76 cal

HAACP Process

2
USDA Meal Components

Other Vegetable ½ cup serving

Diet
Ingredients
12 lbs 8 oz Brussels sprouts, raw, whole, trimmed
1½ cup Olive oil
½ cup Honey, local
3 T Garlic powder
3 T Kosher salt
2 T Black Pepper
1 lb Cranberries, dried
2 cups Parmesan, grated, reduced fat
Method
1
Preheat oven: Conventional 450F, Convection 400F.
2
Trim the ends off of the brussels sprouts and then cut in half lengthwise.
3
Whisk olive oil, honey, garlic, salt, and black pepper in a bowl.
4
Toss the dressing with brussels sprouts to coat.
5
Spread the sprouts out on baking sheets in a single layer. Do not overcrowd!
6
Sprinkle with dried cranberries and then Parmesan cheese.
7
Bake for 15-20 minutes until golden brown.
8
CCP: Hold at a minimum of 135F.
9
Serving size: ½ cup portion.
Don't be afraid to serve Brussels sprouts! Incorporating these little gems into stews, soups, and other vegetable dishes will add flavor and give a boost to any recipe.

Rules to Remember:
When roasting Brussels sprouts in the oven be sure to caramelize them at a higher temperature to bring out the sweetness of this vegetable. When adding to soups and stews be sure to cook them longer than other veggies to achieve a softer, creamy texture. Make sure they are first in the pot!
Nutrition Facts

100 servings per container

Serving Size

1/2 cup

Amount per serving

Calories

76

% Daily Value*

Total Fat

3.9 g

5%

Saturated Fat

0.8 g

4%

Trans Fat

0 g

Cholesterol

1.8 mg

0.6%

Sodium

162 mg

7.04%

Total Carbohydrate

9.8 g

3.56%

Dietary Fiber

2.4 g

8.57%

Total Sugars

5.1 g

Protein

2.3 g

4.6%

* The % Daily Value (DV) tells you how much a nutrient in a serving of food contributes to a daily diet. 2,000 calories a day is used for general nutrition advice.
Save this recipe: