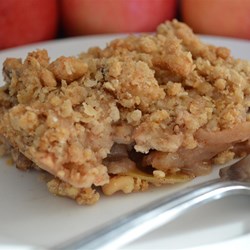 A quick and easy breakfast or lunch dish, warm and inviting!This is an autumn school food service recipe for apples.Cooking and prep level: Basic.
Prep Time

1 hr

Cook Time

40 min

Total Time

1 hr 40 min

Yield

100

Serving Size

2/3 cup

Energy

154 cal

HAACP Process

2
Cuisine

Course

USDA Meal Components

½ oz Credible Grains
¼ c fruit

Diet
Ingredients
9 lbs Apples, fresh Granny Smith, cored and chopped
96 oz USDA Applesauce, canned
10⅔ oz Lemon Juice, fresh
1 lb Sugar, white granulated
4 oz Cinnamon, ground
1 lbs 8 oz Oatmeal, rolled
1 lbs 6 oz Sugar, brown
1 lbs 6 oz Flour, whole grain
1 lbs 2 oz Flour, white all-purpose
1 lbs 8 oz Butter, salted
Method
1
CCP: Preheat oven; Convection 350 F, Conventional 375 F
2
Add chopped apples to lemon juice, tossing to coat.
3
Add the white sugar and cinnamon to the apples. Toss to coat.
4
Add the applesauce to apples, stir to combine. Set aside.
5
Melt butter in a microwave-safe bowl.
6
In a large bowl (using a floor mixer or by hand) combine oatmeal, flours and brown sugar. Slowly add the melted butter until a cookie dough-like consistency is reached.
7
Grease two 20 x 12 x 4-inch pans.
8
Pour apple/applesauce mixture on bottoms of pans, spreading evenly.
9
Pour oatmeal mixture on top of apple mixture, spreading so it completely covers the surface.
10
Bake at 40 mins, in convection or 50 mins in a conventional oven.
11
The top should be golden brown.
12
CCP: Internal temp of 135 F must be reached for 15 seconds.
13
Serve warm with a #6 scoop.
Did you know there are 2,500 varieties of apples are grown in the United States? 
In colonial time, apples were called winter banana or melt-in-the-mouth. The old saying, "An apple a day, keeps the doctor away." comes from the old English adage, "To eat an apple before going to bed, will make the doctor beg his bread."

Learn about Illinois apples here: AgintheClassroom/Apples


Nutrition Facts

100 servings per container

Serving Size

2/3 cup

Amount per serving

Calories

154

% Daily Value*

Total Fat

6.1 g

7.82%

Saturated Fat

3.6 g

18%

Trans Fat

0 g

Cholesterol

14.6 mg

4.87%

Sodium

42.3 mg

1.84%

Total Sugars

13.7 g

* The % Daily Value (DV) tells you how much a nutrient in a serving of food contributes to a daily diet. 2,000 calories a day is used for general nutrition advice.
Save this recipe: