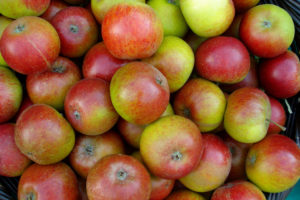 Quinoa is paired with traditional, regional fall produce to create a unique flavor experience your students will love.This is an autumn school food service recipe for Apples, local Honey, local Grains, and Butternut Squash.Cooking and Prep Level: Complex.
Prep Time

1 hr 15 min

Cook Time

20 min

Total Time

1 hr 35 min

Yield

100

Serving Size

1 cup

Energy

298 cal

HAACP Process

2
USDA Meal Components

⅛ cup red/orange vegetable
3/8 cup fruit
1 oz equivalent grains

Diet
Ingredients
8 lb 12 oz Quinoa
2 gal 3 qt Water
7 lbs 4 oz Apples, tart apples cored, peeled cubed ¾ inch
8 lbs Butternut Squash, peeled cubed ½ inch
1 cup Canola Oil
1 T 1 tsp Ground Ginger
3 T 1 tsp Ground Cinnamon
3 c Frozen Orange Juice Concentrate, thawed
1⅓ c Olive Oil
⅓ c local Honey
2 T Dijon Mustard
2 cups Red Wine Vinegar
2 tsp Salt
1⅓ tsp Black Pepper, ground
1 tsp White Pepper, ground
¼ cup Cilantro, finely chopped
2 lbs 8 oz Golden Raisins, finely chopped
2 lbs 8 oz Cranberries, finely chopped
Method
1
Rinse quinoa in a fine mesh strainer until water runs clear, not cloudy.
2
Combine quinoa and water in a covered stockpot and bring to a boil. Reduce heat, simmer until water is absorbed, about 10-15 mins.
3
Combine apples, squash and canola oil. Add half the ginger and half the cinnamon. Reserve remaining spice. Toss well to coat.
4
Transfer apple mixture to a sheet pan. For 50 servings; 2 pans, for 100 servings; 4 pans.
5
CCP Heat oven: Conventional oven: 400 F , Convection oven: 400 F
6
Roast until squash is soft and slightly brown on edges. DO NOT OVERCOOK. Conventional oven: 400 F 15-20 mins. Convection oven: 400 F 12-15 mins
7
Combine orange juice, olive oil, honey, Dijon, vinegar, salt, peppers, cilantro and remaining cinnamon and ginger. Whisk until combined.
8
In steam table pan (12x20x4) combine cooked quinoa, apple/squash mixture, cranberries, raisins and dressing. Mix well. For 50 servings, use 2 pans. For 100 servings, use 4 pans.
9
Cover and refrigerate at 40 F to allow flavors to meld.
10
CCP: Cool to 41 F or lower within 4 hours. Refrigerate until service. Serve cold.
Quinoa (keen wa) is one of several ancient grains. Many ancient grains were worshipped and used by multiple ancient civilizations, from the Aztecs to the Greeks and Egyptians. Quinoa was called the "mother of all grains" and was considered sacred by the Inca people.

Ancient grains are rich in protein, omega-3 fatty acids, and antioxidants. Some, but not all, ancient grains are gluten-free. Amaranth, quinoa, buckwheat, millet, and teff are all gluten-free.
Nutrition Facts

100 servings per container

Serving Size

1 cup

Amount per serving

Calories

298

% Daily Value*

Total Fat

8 g

10.26%

Saturated Fat

1 g

5%

Trans Fat

0 g

Cholesterol

0 mg

0%

Sodium

58 mg

2.52%

Total Carbohydrate

54 g

19.64%

Dietary Fiber

26 g

92.86%

Total Sugars

23 g

* The % Daily Value (DV) tells you how much a nutrient in a serving of food contributes to a daily diet. 2,000 calories a day is used for general nutrition advice.
Save this recipe: