Find program tips and information for expanding your promotion with LETTUCE and SPINACH. These tips include best practices and innovative ideas for the development of your Harvest of the Month program.
---
A great veggie to feature during spring is Lettuce and this fantastic food can be easily grown indoors and out!
Lettuce is a crop that is grown across the U.S. This vegetable is a spring and fall crop requiring cool temps and bright light from direct sunshine or indoor grow lights. Lettuce is the "race car" of veggies with a short growing period of 30-45 days!
When you consider the possibilities, anyone can grow lettuce from seed in a window or a tented outdoor structure such as a cold frame or low tunnel with very little fuss. Using the "cut and pick again" method lettuce can be seeded in rows outdoors or in containers indoors every other week to provide a continuous harvest. Loose leaf and micro varieties are the easiest to grow using this method and are the most productive.
There are multiple variations for lettuce production including outdoor field planting, growing in low or high tunnels and cold frames, and indoor production in a greenhouse, hydroponic or aquaponic applications. Lettuce can be easily grown indoors in school hallways, in classroom windows, in a library or art room, greenhouse or even in the cafeteria! If you have an outdoor school garden, the addition of cold frames will extend your garden season by weeks in the spring and fall, providing seasonal produce for tastings and your meal lines. If you are growing indoors there are many ways to grow and harvest this versatile veggie!
Vertical growing units, or growing walls, can be constructed from inexpensive or reclaimed materials and installed in your school to create an amazing food production system! Growing walls not only provide food, they bring a natural beauty into the space and are a wonderful spot for students to read and study. A rolling, self-contained hydroponic unit, such as a tower garden, can be placed on display in school cafeterias during mealtime to peak student interest in healthy meal choices, and then moved from classroom to classroom to be incorporated into science, math and other curricula. The possibilities are endless when planning to grow lettuce!
Do you want to learn more about cold frames or indoor growing methods? Check out these websites for options and tips. Share your ideas with school staff, form a plan, and then search for gardening grants and tools in our monthly newsletter, or on our website to grow support for your garden project.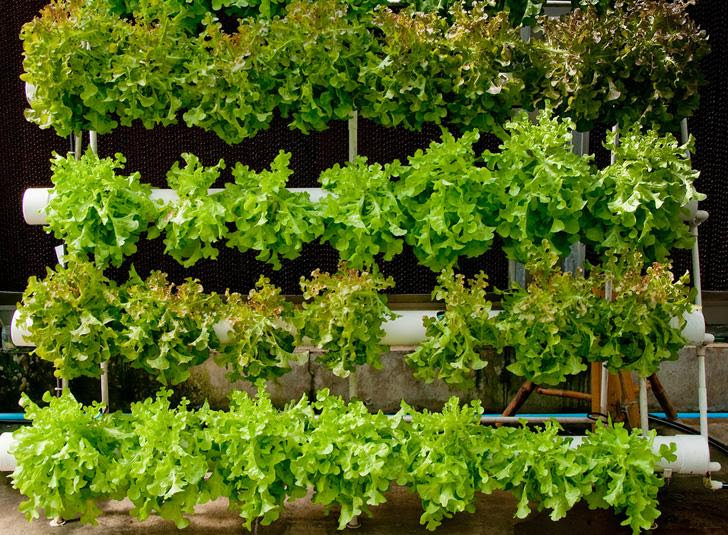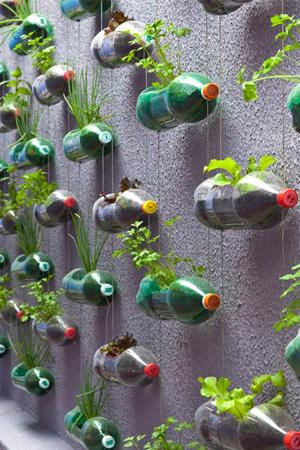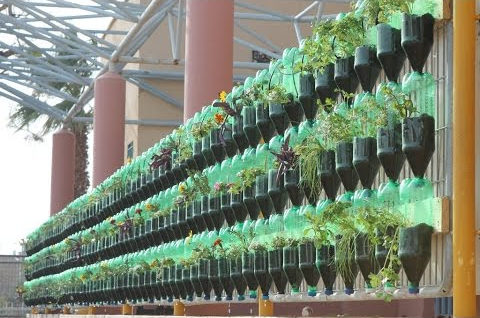 Rain Gutter Lettuce                                 Soda Bottle Herb Garden                                    Green Wall Project
Cooking and Prep Level: Intermediate.
Servings: 100
This recipe showcases scratch made, shelf-stable spice blends.
What's the easiest way to get kids in line at lunchtime? Offer a salad with both Ranch and BBQ flavors! This recipe utilizes scratch made spice blends, cutting out the heavy sodium levels and chemicals in pre-made blends. USDA chopped chicken becomes a star ingredient when it's paired with BBQ and Ranch seasonings! This recipe works well as a self-serve entree in an individual clam-shell, or as an easy bulk service entree served from hotel pans. With a sure to please taste, using kid-friendly ingredients and flavors, what's not to love?
More LETTUCE recipes for Spring:
Try 
Chicken Caesar Salad
 on the lunch tray and send the 
Quick & Easy Lettuce Wraps
 recipe to your school families at home to create a great promotion! By promoting your Harvest of the Month program on the meal line, and at home, you can create multiple food exposures and drive up participation.
We have two family recipes and five food service recipes for Lettuce. You can check them out here!
Kewl (cool!) Tuna Salad Flatbread
Winning Lettuce Fun Fact: A History of Salad!
In the United States, head lettuce was for many years commonly cut and served as a wedge, covered simply with mayonnaise or another dressing, and eaten with a knife and fork. Wedge Salads were popular in fine dining and Mom & Pop restaurants, alike. This simple Wedge Salad was served less frequently as other specialty salads hit the dining scene. In 2015 popular restaurant chains began re-introducing the Wedge with new, imaginative ingredients and bold dressings. Today, the Wedge is slowly making a comeback!
The always popular Caesar Salad is made only with leaves of romaine lettuce tossed with a special dressing, including a raw egg and small pieces of anchovy. Legend has it that Italian-American restaurateur Caesar Cardini invented the salad in 1924 in Tijuana, Mexico. According to The Telegraph, Cardini owned a restaurant in the tourist destination to "attract Americans frustrated by Prohibition." The exact story is disputed, but the general consensus is that over Fourth of July weekend, Cardini threw together a bunch of ingredients he had on hand and served his concoction to his friends. Needless to say, the improvised dish caught on. (Source: The Origins of Caesar Salad, from huffingtonpost.com)
In parts of the American South the 
Wilted Lettuce Salad
, or killed "kilt" salad is a family favorite made by pouring a warm dressing made with bacon fat and vinegar over lettuce leaves to produce a wilted effect. Much like German Potato Salad, this lettuce salad has a sweet/sour flavor profile due to the perfect balance of vinegar and sugar in the dressing.  (Source: 
TheSpruceWiltted"Kilt"Salad) 
A relative newcomer to the salad scene is mesclun, a mixture of baby leaves consisting of several lettuce types and other leafy vegetables, some of which are fairly exotic. These may include arugula or rocket, actually a partially domesticated weed; a fine-leaved endive called frise; mizuna, a small, dark green round leaf from Japan; spinach, beet tops, orchard; red chicory (radicchio); and romaine, butterhead, and red and green leaf lettuces. These leaves are cut in the field by hand or mowed when they are no more than ten centimeters long.
Here are more Lettuce fun facts from our website. These can be utilized as fun meal line signage to draw attention to your Harvest of the Month!
It's All About Romaine:
Romaine is the American term for this long-leafed lettuce, also called cos or cos lettuce (mainly with British-speaking peoples) because it is said to have originated on the Greek island of Cos (Kos), off the coast of Turkey in the Aegean Sea (also the birthplace of the physician Hippocrates).
Its original home is in western Europe and the eastern Mediterranean area. Romaine has been cultivated and eaten cooked or raw for almost 5,000 years and may very well be the oldest form of cultivated lettuce.
In 2015, the crew aboard the space station got their first taste of Romaine lettuce, grown entirely in space! The lettuce was planted, cultivated, and harvested entirely on board the station, sprouting in a collapsible growth chamber adorably known as Veggie from "rooting pillows" under red, green, and blue LEDs. Served with a classic oil-and-vinegar dressing, the space leaves were a wild success. Astronauts dubbed them "awesome."(Excerpt from National Geographic's The Plate, 8/13/15)
Lettuce Nutrition Facts:
These nutrition facts can be added to middle/high school meal lines and cafeteria signage to educate, as well as, draw attention to your Harvest of the Month! Sharing your Harvest of the Month activities with other school staff can lead to multiple exposures for your featured fruit or veggie. The more exposure kids have to a new fruit or veg, the more likely they are to accept it! Carrots may not be an issue with kids, but applying this technique to other, less popular veggies like beets or dark leafy greens can be the difference between acceptance and total disinterest.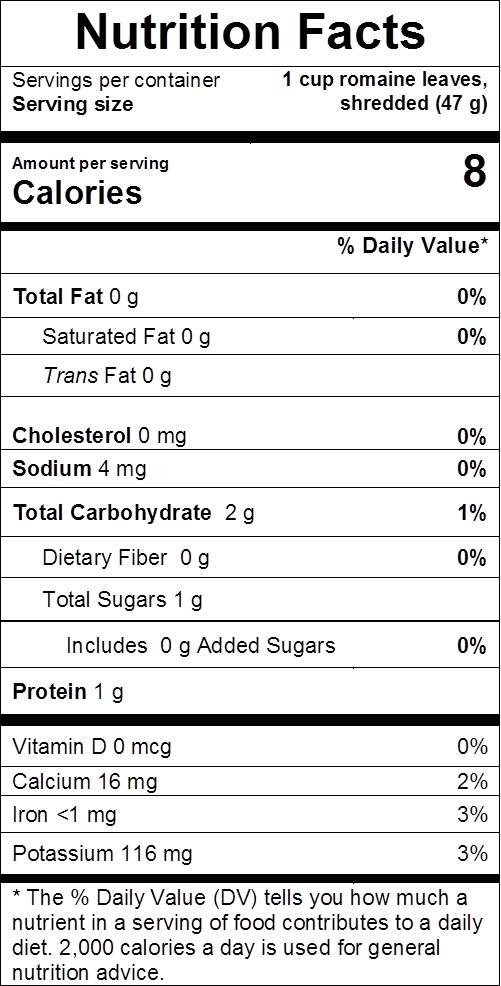 It's got more vitamin C than an orange!

It's got protein! What? Yep, protein!

Lots of omega 3-which is an essential fat. Keeps you warm, keeps your hair pretty and your skin radiant.

Lots of water! One salad made with romaine lettuce is almost a cup of water, seriously, one head has 20 ounces!

It's full of good things like vitamins A&K and a nice dose of potassium. Potassium almost instantly will stop leg cramping. Go ahead and put it to the test after a long day of being on your feet.
---

This spring veggie Spinach is a powerhouse of nutrition! There are several ways to share and promote spinach during tastings and in the cafeteria.
Leaf It to Spinach!

Create Leafy People Posters
Create promotional posters for the cafeteria and halls using a spinach leaf design as the torso for whimsical Leaf People. Advertise your special menu days and share fun facts about spinach in a playful and colorful way!
Grow Sponge Sprouts!
Display spinach sprouts grown on everyday sponges on the lunch lines and on tasting tables. You can even cut the sponges into a spinach leaf design before sprouting your spinach seeds! Sponge Sprouts can be utilized as a great classroom activity. Step by step directions can be found here.
FYI: Sponges cut into shapes and dipped in poster paint make a great stamp for posters and fun fact cards!
Spinach Has Super Powers!
Spinach is a powerhouse of nutrition. Create stick-figure superhero characters based on the superpowers of spinach and display them on your line and in the cafeteria. You can list each "green superpower" on a separate poster for your cafeteria walls or share these superpowers on individual sneeze-guard cards.
You can find spinach superpowers 
here
.
Need help with veggie promotion and education? University of Illinois Extension educators have resources they can share to build interest and promote veggie education. Contact your UofI EXT educator 
here
for ideas.
Cooking and Prep Level: Complex.
Servings: 100
USDA Meal Components: 2 oz Meat/Meat Alternative, 2 oz Equivalent Whole Grains, ½ c Dark Green Vegetable, ¼ c Red/Orange Vegetable.
This recipe combines Mexican seasonings with USDA chicken and salsa to create a cheesy, yummy entree that's sure to please your student customers!
Don't forget to advertise your entree! What has cheesy, smokey chicken combined with tender, local spinach leaves, and a spicy kick? Harvest of the Month Super Spinach & Chicken Quesadillas!
More SPINACH recipes for Spring:
Spinach & Balsamic Strawberries Salad
For Families
You can check out all our Spinach recipes here!
Spinach Fun Fact: A Veggie with a Long History.
Spinach is an annual edible flowering plant whose leaves we use for nourishment since the ancient times. It can grow up to 30 cm in height and its leaves can have a width of up to 15 cm and length of 30 cm. Its seed comes from very small fruits (10 mm in radius) which in turn come from equally small flowers (5 mm).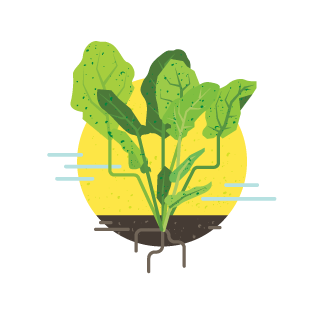 Spinach's place of origin is ancient Persia or today's Iran and surrounding countries. From there it crossed into India, but it is not known who brought it there. Ancient Chinese got it from India and gave it a name "Persian vegetable". There we find the first written mentioning of the spinach which says that it came to China via Nepal somewhere around the year 647. Saracens (which was how Europeans called Muslims during the later medieval era) brought spinach to Sicily in the year 827.
The first texts to mention spinach in the Mediterranean region were written in the 10th century, and there were three of them. One was a medical text written by Rhazes in the West while the other two were agricultural texts by Ibn Waḥshīyah and Qusṭus al-Rūmī. Ibn Ḥajjāj also wrote about spinach in the 11th century.
During the times when the Arabs held the Mediterranean, spinach was very popular and over time spinach came to Spain. The great Arab agronomist Ibnal-ʻawwām called it  "the chieftain of leafy greens" in his texts, which shows the high regard in which he held this plant. Germany knew about the prickly-seeded variant of spinach by the 13th century. Smooth-seeded spinach appeared in the 16th century and was described for the first time in 1552. Spinach came to England and France in the 14th century from Spain.
It became very popular there because it grew in spring when there were no other vegetables capable of growing in cold weather during that period of history. Spinach became a food of choice during Lent, as well.
The English cookbook, The Forme of Cury, was the first book to mention spinach. This book, written by the Master Cooks of King Richard lll, is the oldest, surviving English cookbook.
When Catherine de' Medici became queen of France in 1533, spinach again gained in popularity. She liked it so much that she ordered it prepared for every meal. Catherine de' Medici was born in Florence and because of that, even today, cuisines made with spinach are known as "Florentine."
During the First World War, French soldiers suffering from hemorrhages were given wine mixed with juices from spinach. During those times, spinach was cultivated in more useful variants. (Adapted from: 
Vegetablefacts.net
)
Here are more Spinach fun facts. These can be utilized in fun meal line signage to draw attention to your Harvest of the Month!
Spinach is a cool season crop and belongs to the goosefoot family along with Swiss chard and beets. Spinach is a native plant of Persia (modern day Iran). It was introduced to China in the 7th century. It was most probably brought to Europe in about the 12th century and to the US in 1806. Reflecting its origin, spinach is still widely known in China as "the Persian Green". There are many varieties of spinach, though they mostly fall into three distinct groups: Savoy (Dark green, crinkly and curly leaves. Commonly found in supermarkets.), Flat/smooth leaf spinach (Most commonly used for canned and processed spinach products, though "baby spinach" also fits in this group. Easier to wash and clean than Savoy.), and Semi-savoy (Hybrid variety with slightly crinkled leaves. It has the same texture as savoy, but it is not as difficult to clean.)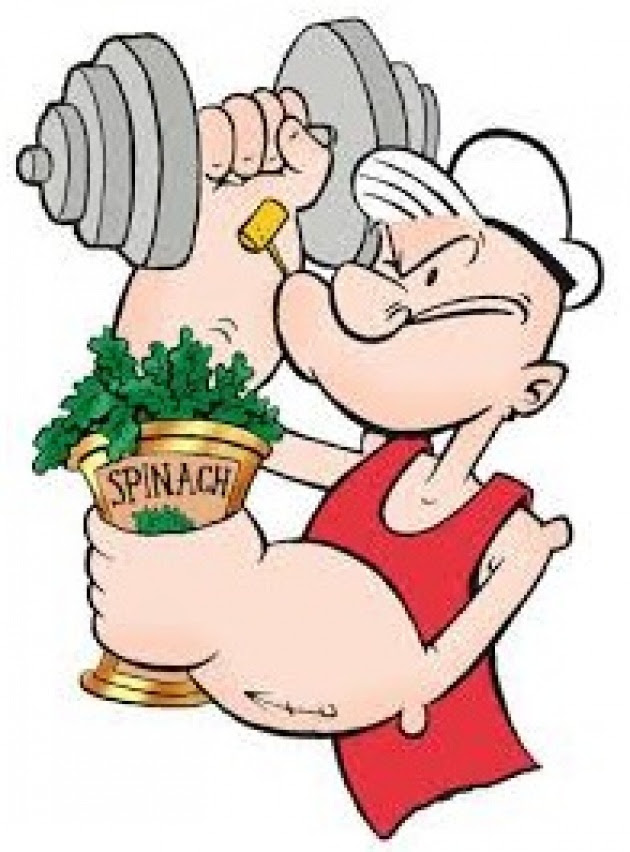 In the 1930's U.S. spinach growers credited Popeye, a cartoon character, with a 33% increase in domestic spinach consumption – a welcome boost to an industry during the depression era. The spinach growing town of Crystal City, Texas, erected a statue of the cartoon character, Popeye, in 1937.
Spinach Nutrition Facts:
These nutrition facts can be added to middle/high school meal lines and cafeteria signage to educate, as well as, draw attention to your Harvest of the Month! Sharing your Harvest of the Month activities with other school staff can lead to multiple exposures for your featured
fruit or veggie. The more exposure kids have to a new fruit or veg, the more likely they are to accept it! Carrots may not be an issue with kids, but applying this technique to other, less popular veggies like squash or spinach can be the difference between acceptance and total disinterest.
Spinach is low in fat and even lower in cholesterol

Spinach is high in:

Niacin and zinc, as well as protein, fiber, vitamins A, C, E and K, thiamine, vitamin B6, folate, calcium, iron, magnesium, phosphorus, potassium, copper, and manganese.

In other words, it's loaded with good things for every part of your body!