Pan-Indian Chicken Biryani with Potatoes
Author:
Adapted from Cambridge Public Schools
Recipe type:
Hot entree. HACCP Process 2, same day service
Cuisine:
Biryani (pronounced [berr-ee-ani) spicy rice is a South Asian mixed rice dish with its origins among the Muslims of the Indian subcontinent. Creating your own Biryani spice blend reduces sodium and increases flavor!
Prep time:
Cook time:
Total time:
This is a food service recipe for potatoes.
USDA Meal Components: 2 oz meat/meat alternate, ¼ c Starchy Veg, ½ c credible whole grains
Cooking and prep level for this recipe is rated: Intermediate.
Ingredients

For the Chicken

¾ cup Vegetable Oil
3 each Yellow Onions, yellow, medium-sized, peeled and chopped
⅓ cup Garlic, fresh, chopped
Scant ¼ cup Ginger, fresh, peeled and chopped
1 T Kosher Salt
½ c (heaped) Biryani Spice Blend
83 oz Crushed Tomatoes, USDA foods
12½ lbs Chicken, cooked, diced USDA
3 lbs Greek Yogurt, low fat
10½ lbs Potatoes, White, with skin ⅜ inch cubed
11½ lbs Rice, brown, dry
Water per instructions on the rice package
Instructions

FOR THE CHICKEN

Cook cubed potatoes in enough water to cover until almost done. Do not overcook.
Drain and set aside.
Heat oil in a large kettle or small tilt skillet.
Add onions and ginger. Sprinkle salt over ingredients.
Saute until the onions are soft, stirring often.
Add the tomatoes and Biryani spice blend. Cook, stirring often for 2 mins.
Bring mixture to a boil. Reduce heat, and simmer for 10 mins.
While mixture is simmering begin cooking the rice per package instructions.
Reduce heat to low. Stir in the chicken. Cook for 30 mins, stirring occasionally.
Add a little water if the mixture becomes too thick.
CCP: Cook until chicken registers a minimum of 140 F for 15 seconds.
Stir in yogurt until well combined.
Gently stir in the potatoes. Do not over stir, potatoes will break apart!
Serve #5 scoop of chicken over ½ cup of rice.
Notes
The History of Biryani from
thebetterindia.com
Though it may appear to be a dish indigenous to India, in reality, the dish originated quite far away. Biryani is derived from the Persian word Birian, which means "fried before cooking" and Birinj, the Persian word for rice. While there are multiple theories about how biryani made its way to India, it is generally accepted that it originated in West Asia.
One legend has it that the Turk-Mongol conqueror, Timur, brought the precursor to the biryani with him when he arrived at the frontiers of India in 1398. Believed to be the war campaign diet of Timur's army, an earthen pot full of rice, spices and whatever meats were available would be buried in a hot pit, before being eventually dug up and served to the warriors.
The evolution of biryani spans many centuries, many cultures, many ingredients and many cooking styles. From an army dish to a dish fit for royalty, the biryani today is a pan-India culinary favorite. Its many varieties reflect the local tastes, traditions and gastronomic histories of their regions of evolution.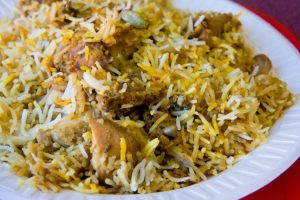 Nutrition Information
Serving size:
#5 scoop ½ c
Calories:
359
Fat:
6.5 g
Saturated fat:
.7 g
Carbohydrates:
54 g
Sugar:
3.9 g
Sodium:
149 mg
Fiber:
6.5 g
Protein:
19.2 g