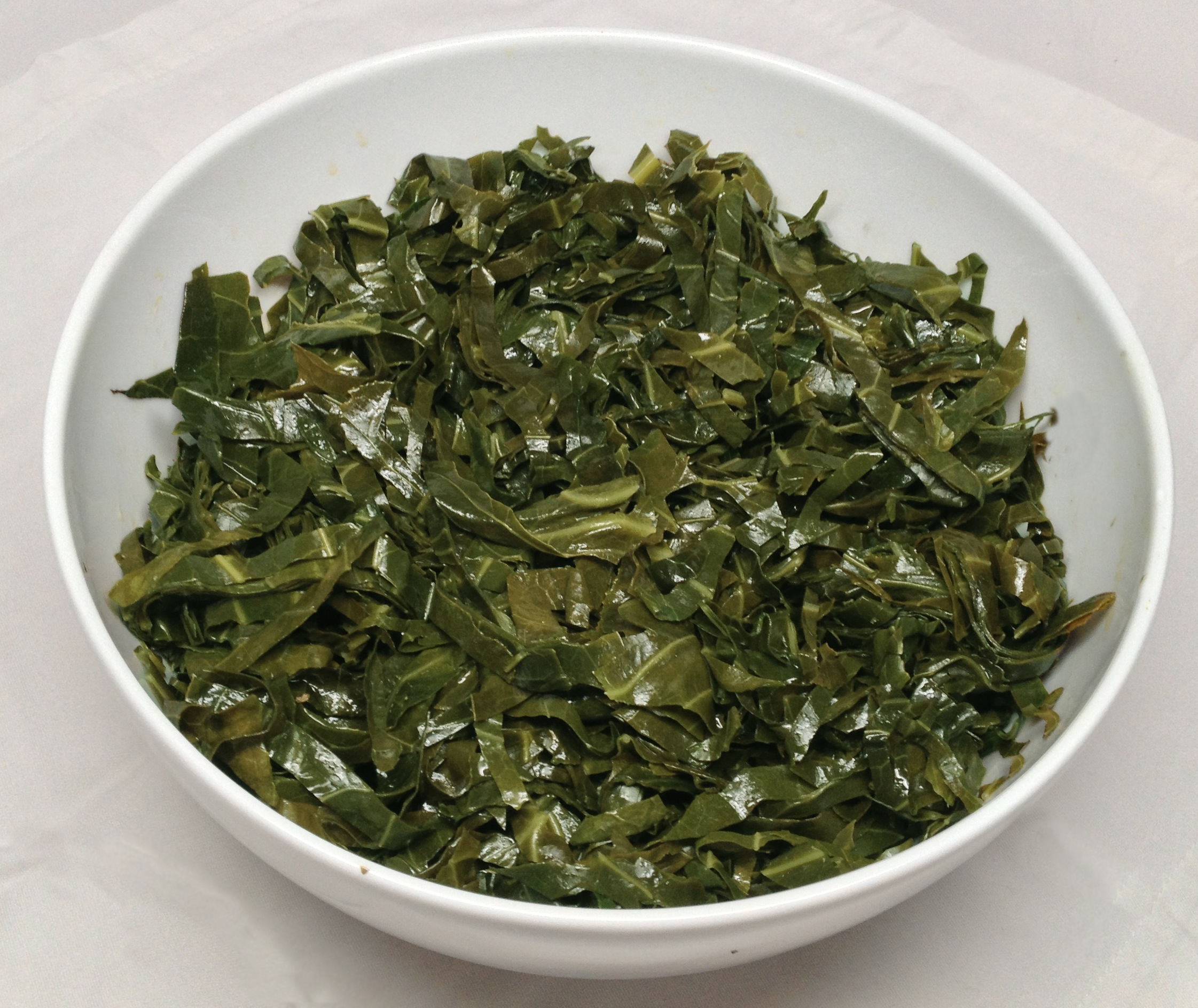 An easy, warm greens dish served with rolls or bread.This is an autumn CACFP recipe for Kale and two types of Onion.Cooking and prep level: Basic.
Prep Time

15 min

Cook Time

35 min

Total Time

50 min

Yield

15

Serving Size

1/2 cup

Energy

100 cal
USDA Meal Components

½ dark green vegetable
½ slice grain

Diet
Ingredients
¼ cup olive oil
2 cloves garlic, minced
2 green onions, minced
2 cups onions, minced
2 cups tomato juice
2 cups low-sodium vegetable broth
2 lbs Greens- Kale, destemmed, Swiss Chard, destemmed, or Turnip greens, destemmed
8 wheat rolls, cut in half
Method
1
Chop greens into manageable pieces.
2
In a large pot heat the olive oil.
3
Add garlic and both onions, saute for 5 minutes.
4
Add the greens and saute 3 mins.
5
Pour in the broth and tomato juice.
6
Cook over low heat, covered, for approx 35 minutes until greens are tender.
7
Serve warm, in ½ cup servings.
8
For something different: add a sprinkle of parmesan cheese to the top of each bowl.
How to remove stems from kale:

To de-stem kale, grab a stalk of kale, hold it by the stem with one hand and place the pointer or middle finger and thumb of your other hand around the stem just above the leaves. Pull your fingers along the stem, tearing the leaves off. You can do this step right above the sink after you wash your kale leaves. 
Nutrition Facts

15 servings per container

Serving Size

1/2 cup

Amount per serving

Calories

100

% Daily Value*

Total Fat

4.5 g

5.77%

Trans Fat

0 g

Cholesterol

0 mg

0%

Sodium

610 mg

26.52%

Total Carbohydrate

13 g

4.73%

Dietary Fiber

3 g

10.71%

Total Sugars

4 g

Protein

3 g

6%

* The % Daily Value (DV) tells you how much a nutrient in a serving of food contributes to a daily diet. 2,000 calories a day is used for general nutrition advice.
Save this recipe: