ROMAINE SALAD WITH ORANGE, FETA & BEANS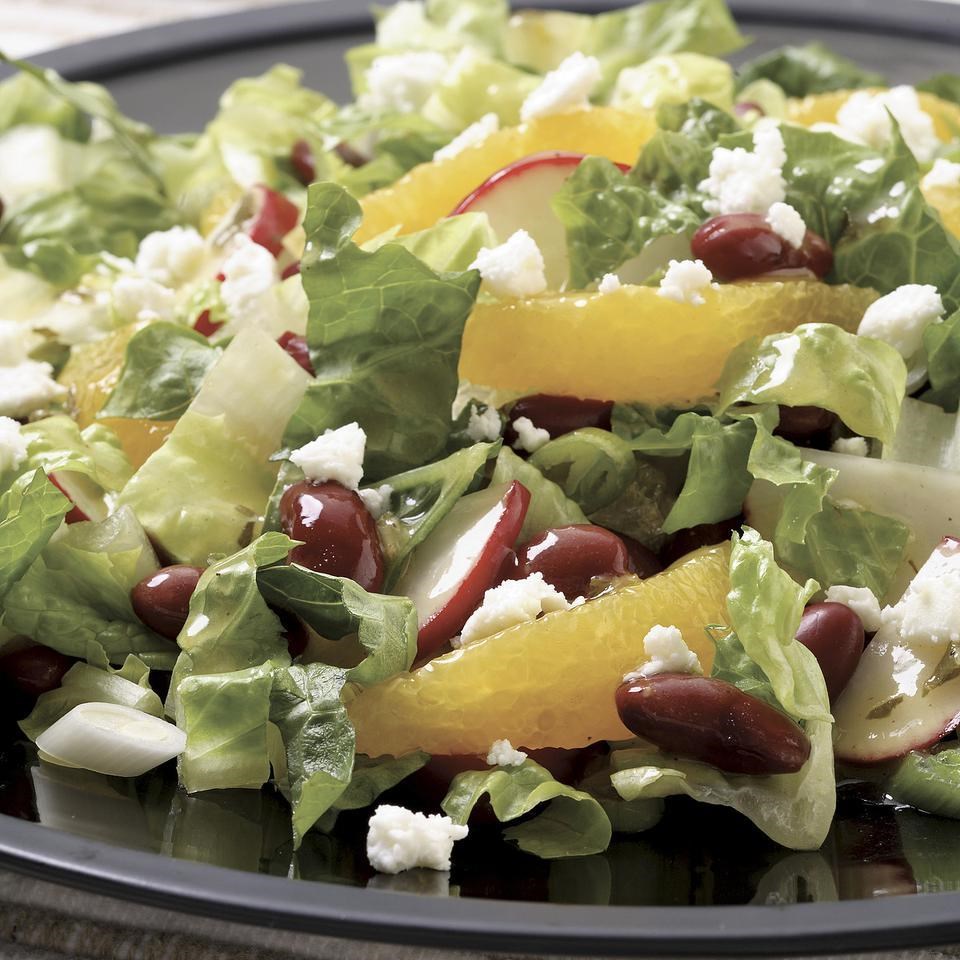 A bright and sunny salad- perfect for springtime!This is a summer family recipe for lettuce and radish.
Prep Time

20 min

Total Time

20 min

Yield

4

Serving Size

1 cup

Energy

235 cal
Cuisine

Course

USDA Meal Components

[Enter USDA Meal Components]
Separate components w/ comma

Diet
Ingredients
Orange-Oregano Dressing
½ cup orange juice, preferably freshly squeezed
1 tablespoon extra-virgin olive oil
2 teaspoons chopped fresh oregano or ¾ teaspoon dried
½ teaspoon freshly ground pepper
Salad
6 cups chopped romaine lettuce
1 cup canned kidney beans, rinsed
¼ cup crumbled reduced-fat feta cheese
¼ cup Orange-Oregano Dressing
Method
To Prepare Dressing
1
Place orange zest, orange juice, vinegar, oil, oregano, mustard, salt and pepper in a jar.
2
Cover and shake to combine.
To Prepare Salad
3
Slice both ends off orange. With a sharp knife, remove the peel and white pith; discard. Working over a large bowl, cut the segments from their surrounding membrane. Squeeze the juice into the bowl before discarding the membrane, if desired.
4
Add lettuce, radishes, beans, scallion, feta and dressing; toss to coat.
Dressing can be made up to one week ahead. Refrigerate in a sealed, airtight container. Whisk before using.
Nutrition Facts

4 servings per container

Serving Size

1 cup

Amount per serving

Calories

235

% Daily Value*

Total Fat

5 g

6.41%

Saturated Fat

2 g

10%

Trans Fat

0 g

Cholesterol

5 mg

1.67%

Total Carbohydrate

37 g

13.45%

Dietary Fiber

14 g

50%

Total Sugars

11 g

Protein

13 g

26%

* The % Daily Value (DV) tells you how much a nutrient in a serving of food contributes to a daily diet. 2,000 calories a day is used for general nutrition advice.
Save this recipe: