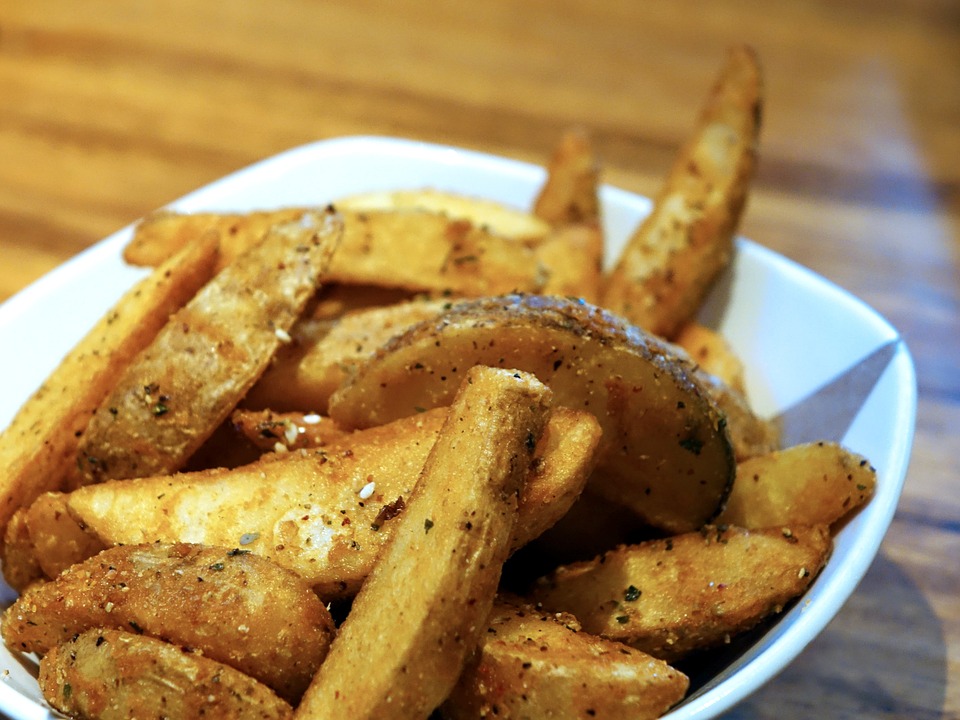 A tasty roasted potato dish using Spanish Caribbean/Latin American Adobo, or Adobar, seasoning. This is an autumn school food service recipe for potatoes.Cooking and prep level: Basic.
Prep Time

35 min

Cook Time

1 hr 20 min

Total Time

1 hr 55 min

Yield

100

Serving Size

1/2 cup

Energy

125 cal

HAACP Process

3
Ingredients
38 lbs Russet Potatoes,120 ct, (approx. 100 pcs) well-scrubbed
2 Tbsps 2 tsp Paprika
¼ c 2 tsp Onion Powder
¼ c 2 tsp Garlic Powder
2 ½ tsp Adobo Seasoning
2 tsp Salt, kosher or coarse
1 tsp Pepper, black
Method
1
CCP: Preheat Oven: Conventional oven- 425 F , Convection oven- 375 F
2
Stab potatoes with a fork and bake: about 50 mins Conventional Oven, about 40 minutes Convection Oven, until done.
3
CCP: Cool from 140 F to 70 F within 2 hours and from 70 F to 41 F within 4 hours. May be done one day ahead.
4
With a wet knife, halve potatoes lengthwise, then cut each half into 4-5 wedges.
5
Divide potatoes equally between parchment covered sheet pans in a single layer, skin side down.
6
Mix spices and salt together in small bowl. Sprinkle over wedges.
7
Bake just before service- Convection oven: 400 F about 20 minutes, Conventional oven: 425 F about 25 minutes.
8
Potatoes should be crispy and lightly browned.
A note on the process: 
By pre-baking the potatoes before cutting into them into wedges and roasting, you avoid adding the oil to the cooking process. Instead, you season the cooked wedges and then roast until crispy!

Where did the term "Potato Wedge" come from? 
This term originated in Waconia, Minnesota and is also used in the Northwest, Washington, Idaho, Ohio, Oregon, Minnesota, and other areas. Jojos are potato wedges fried in the same vat as chicken and usually eaten plain alongside fried chicken, coleslaw, and baked beans. Potato wedges are wedges of potatoes, often large and unpeeled, that are either baked or fried.
Nutrition Facts

100 servings per container

Serving Size

1/2 cup

Amount per serving

Calories

125

% Daily Value*

Total Fat

0.2 g

0.26%

Saturated Fat

0.04 g

0.2%

Trans Fat

0 g

Sodium

96 mg

4.17%

Total Carbohydrate

28.48 g

10.36%

Dietary Fiber

3.02 g

10.79%

* The % Daily Value (DV) tells you how much a nutrient in a serving of food contributes to a daily diet. 2,000 calories a day is used for general nutrition advice.
Save this recipe: