IRISH COLCANNON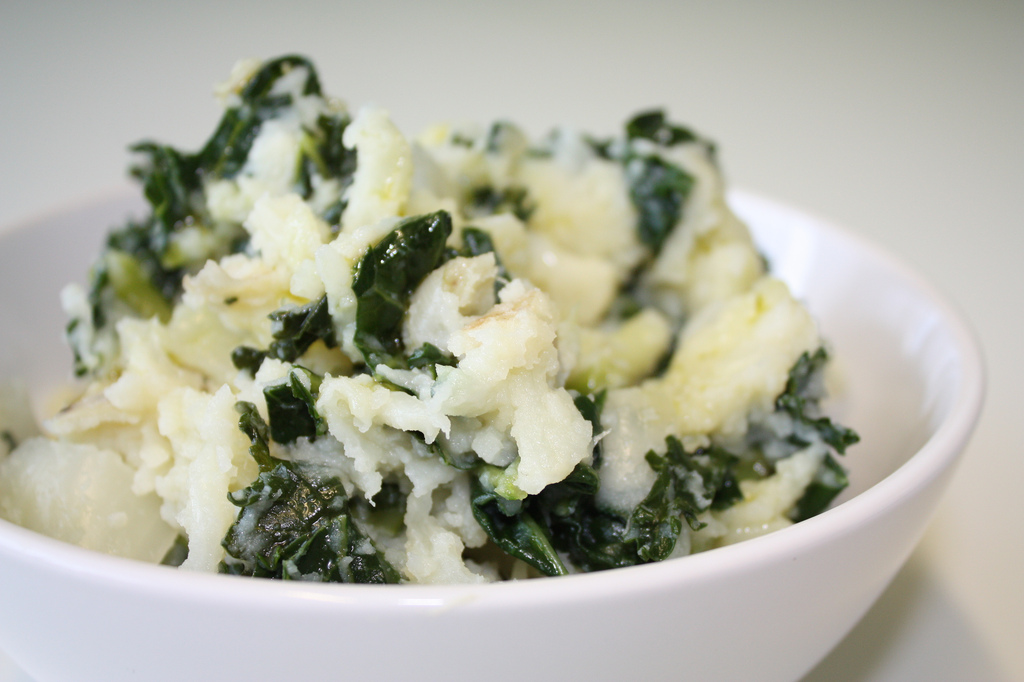 An Irish dish, Colcannon is from the Gaelic cal ceannann' which means white-headed cabbage.This is an autumn school food service recipe for Cabbage and Potatoes.Cooking and prep level: Complex.Adapted from FareStart, WSDA Washington Grown Food Kit
Prep Time

1 hr 30 min

Cook Time

1 hr 30 min

Total Time

3 hr

Yield

100

Serving Size

1/2 cup

Energy

83 cal
Cuisine

Course

USDA Meal Components

¼ cup starchy vegetable
¼ cup other vegetable

Diet
Ingredients
6 lbs 11 oz Green cabbage, chopped
13 lbs 6 oz Potatoes, Yukon Gold, fresh, well scrubbed
3 lbs 5 oz Onion, yellow, fresh, finely chopped
1 lbs 10 oz Leek, fresh, green parts chopped
1 Tbsp Black Pepper, ground
As needed, Olive or Canola Oil pan spray
Method
1
Boil (or steam) potatoes until just fork tender approximately 30-45 minutes.
2
Cool, and mash in a floor mixer until broken up.
3
Add butter or margarine, mixing to incorporate.
4
Slowly add milk and mash until creamy.
5
Heat a large skillet or tilt skillet, spray with pan spray. Saute cabbage until halfway cooked, approximately 10 minutes. Do not let dry out.
6
Add onions and cook for 3 minutes.
7
Add leeks and cook for an additional 2 minutes.
8
Fold vegetable mixture, salt, and pepper into mashed potatoes to incorporate.
9
Taste for seasonings. Adjust, if needed.
10
CCP: Hold at a minimum temp of 140°F.
At one time Irish Colcannon was a cheap, year-round staple food, though nowadays it is usually eaten in autumn/winter when cabbage comes into season.

An Irish Halloween tradition is to serve colcannon with a ring and a thimble hidden in the dish. Prizes of small coins such as threepenny or sixpenny bits were also concealed inside the dish. Creating an October celebration near Halloween sharing Irish holiday traditions is a great way to draw attention to your program!

The song "Colcannon", also called "The Skillet Pot", is a traditional Irish song that has been recorded by numerous artists:
Did you ever eat Colcannon, made from lovely pickled cream?
With the greens and scallions mingled like a picture in a dream.
Did you ever make a hole on top to hold the melting flake
Of the creamy, flavored butter that your mother used to make?
The chorus:
Yes you did, so you did, so did he and so did I.
And the more I think about it sure the nearer I'm to cry.
Oh, wasn't it the happy days when troubles we had not,
And our mothers made Colcannon in the little skillet pot.
Nutrition Facts

100 servings per container

Serving Size

1/2 cup

Amount per serving

Calories

83

% Daily Value*

Total Fat

2 g

2.56%

Saturated Fat

1 g

5%

Trans Fat

0 g

Cholesterol

1 mg

0.33%

Sodium

87 mg

3.78%

Total Carbohydrate

15 g

5.45%

Dietary Fiber

3 g

10.71%

Protein

3 g

6%

* The % Daily Value (DV) tells you how much a nutrient in a serving of food contributes to a daily diet. 2,000 calories a day is used for general nutrition advice.
Save this recipe: