Crunchy Garlic Green Beans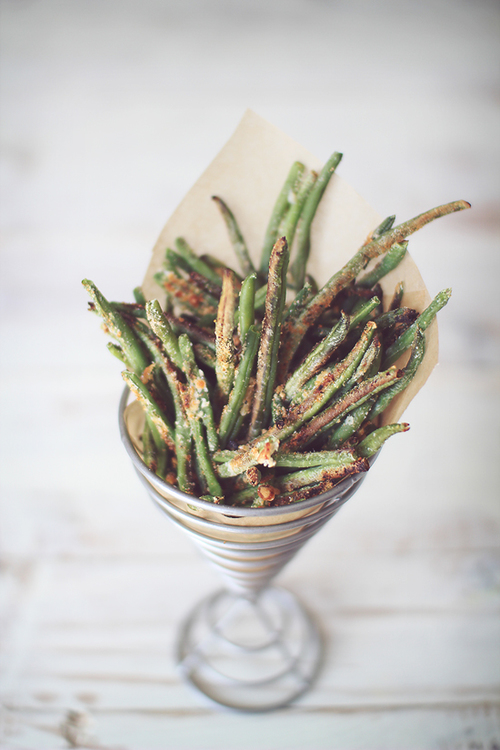 Fresh green beans prepared like fries- what will they think of next?This is a summer family recipe for green beans.
Prep Time

5 min

Cook Time

15 min

Total Time

20 min

Yield

4

Serving Size

3.5 oz

Energy

58 cal
Ingredients
4 cups fresh Green Beans, whole
¼ cup Parmesan cheese, grated
⅛ tsp Pepper (or to taste)
Method
1
Preheat oven to 425 F degrees.
2
Line a baking sheet with foil, and spray with non-stick cooking spray.
3
Wash and snip off the ends of the green beans.
4
Place green beans on a prepared baking pan, making sure they are evenly spread out, and none are laying on top of each other, (this will ensure even crispiness!)
5
Sprinkle seasonings and parmesan cheese evenly over green beans.
6
Place green beans in the preheated oven and bake for 10-15 minutes, or until golden brown and crispy! (To make the parmesan golden brown I like to broil them for an extra 1-2 minutes before pulling them out of the oven).
7
Enjoy immediately with a dipping sauce of choice.
Get your kids involved in cooking this recipe by teaching them how to snap fresh green beans.

If you want to learn more about planting green beans at home in containers, check out this video.
Nutrition Facts

4 servings per container

Serving Size

3.5 oz

Amount per serving

Calories

58

% Daily Value*

Total Fat

1.4 g

1.79%

Saturated Fat

0 g

0%

Total Carbohydrate

8 g

2.91%

Dietary Fiber

1 g

3.57%

Total Sugars

0 g

Protein

4 g

8%

* The % Daily Value (DV) tells you how much a nutrient in a serving of food contributes to a daily diet. 2,000 calories a day is used for general nutrition advice.
Save this recipe: