OVEN FRIED ZUCCHINI STICKS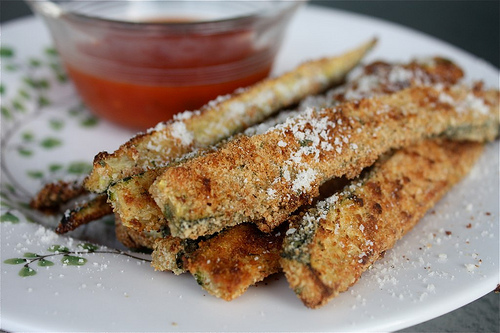 A crunchy, healthy, and delightful take on French Fries!This is a summer school food service recipe for Summer Squash and local Grains.Cooking and prep level: Basic.Adapted from USDA Mixing Bowl Recipes for Schools and Vermont Farm to School
Prep Time

1 hr

Cook Time

20 min

Total Time

1 hr 20 min

Yield

100

Serving Size

2-3 sticks

Energy

106 cal
Cuisine

Course

Appetizer
Snack
Vegetable Side Dish

USDA Meal Components

½ c other vegetable
grains 1oz

Diet
Ingredients
17 lbs 8 oz Zucchini, cut into matchsticks
Canola or Olive oil cooking spray
1 lb Corn Meal, whole grain yellow
1 Tbsp Black Pepper, ground
1 lb Parmesan Cheese, grated
Method
1
Matchstick zucchini using a food processor, or by hand. (This recipe is perfect for utilizing a food processor. You may also go old school and rely on your knife skills.)
2
CCP: Preheat oven: Conventional 475°F, Convection 400°F, low fan
3
Cover a large baking sheet with parchment paper, then coat with cooking spray.
4
Combine flours, cornmeal, cheese and seasonings in a large resealable food-safe plastic bag.
5
Place egg whites, beaten, in a large bowl.
6
Add zucchini sticks to the bowl w/ egg whites tossing to coat.
7
Drop zucchini sticks into the bag, shake in the bag to coat with flour mixture and arrange, not touching, on the baking sheet.
8
Coat all exposed sides of zucchini sticks lightly with cooking spray.
9
Bake on the center rack for 10 minutes.
10
Turn the zucchini and spray lightly with cooking spray. Continue to bake until golden and just tender, about 8 to 10 minutes more.
11
CCP: Heat to 165 °F or higher for at least 15 seconds.
12
CCP: Hold at a minimum of 140 F degrees.
A History of Zucchini: 
Zucchini is a member of the cucumber and melon family. Inhabitants of Central and South America have been eating zucchini for several thousand years, but the zucchini we know today is a variety of summer squash developed in Italy.

The word zucchini comes from the Italian "zucchino", meaning a small squash. The term squash comes from the Indian skutasquash meaning "green thing eaten green." Christopher Columbus originally brought seeds to the Mediterranean region and Africa.

The French snubbed zucchini for a long time until chefs learned to choose small fruits which are less bland and watery. The French term for zucchini is "courgette", which is often used interchangeably for yellow squash as well.

Exerpt from thespruce.com
Nutrition Facts

100 servings per container

Serving Size

2-3 sticks

Amount per serving

Calories

106

% Daily Value*

Total Fat

1.9 g

2.44%

Saturated Fat

0.9 g

4.5%

Trans Fat

0 g

Sodium

116 mg

5.04%

Total Carbohydrate

16.5 g

6%

Dietary Fiber

2.5 g

8.93%

Protein

7.2 g

14.4%

* The % Daily Value (DV) tells you how much a nutrient in a serving of food contributes to a daily diet. 2,000 calories a day is used for general nutrition advice.
Save this recipe: