---
You can include fresh herbs on the salad bar, as an ingredient in hot and cold recipes, incorporated in toppings for entrees and sandwiches, or as a taste test item. Included on this website are featured curriculum connections for herbs, along with recipes for food service departments and for students and their families.
---
Registered Feeding and Garden Sites:
Click here to get to your password protected page with all of the resources you need!
---
What do registered sites get?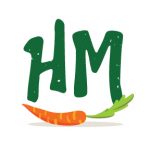 A seasonal calendar with featured food options for each of the four seasons in Illinois
Fun Facts and Nutrition Facts for over twenty foods!
Drag and drop language for school and community communications
Harvest of the Month icons for your menu grids, webpage, social media accounts, and take home communications
Curricular activities for various K-5 levels
Booklist for teachers
Recipes for food service, families at home, and recipe cards for local stores
Monthly emails with seasonal featured foods, cafeteria celebration tips, and ideas, recipes for CACFP, foodservice and home, fun facts and nutrition facts
An Extension Kit to take your Harvest of the Month program into your community!
Technical assistance for procurement, incorporation of foods and recipes into your meal program, garden program or culinary arts program, and general program assistance
Interested in registering as a feeding or garden site or as a partner organization? Click the links or reach out to the Illinois Farm to School team on our contact page.