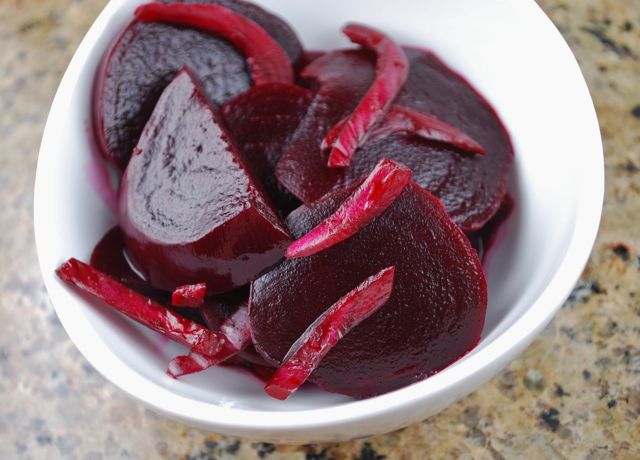 A great way to get kids interested in trying beets and educating on food preservation methods!This is an autumn and winter school food service recipe for Beets.Cooking and prep level: Basic.Adapted from Gunnison Community and Lake Schools, Colorado. Colorado Schools Harvest of the Month menus provided by Mountain Roots Food Project.
Prep Time

1 hr 15 min

Cook Time

1 hr

Total Time

2 hr 15 min

Yield

100

Serving Size

1/4 cup

Energy

17 cal

HAACP Process

2
Ingredients
12 lbs Beets, steamed, peeled, halved and sliced
8 small Onion, red sliced
4 cups Red Wine Vinegar
2 cups White Sugar
6 pieces Cinnamon Sticks
25 whole Black Peppercorns
10 whole Cloves, whole
Method
1
CCP: Heat Ovens: Conventional oven: 350 °F, Convection oven: 350 °F
To Steam Beets:
2
Wrap washed individual beets in foil. place in large pan.
3
Bake: Conventional oven: 350 °F for 1-hour Convection oven: 350 °F for 45 minutes until softened.
4
Cool completely. Remove beets from foil.
To Remove Skins:
5
Slice off the tail end of beet. Grasp top end and squeeze until jacket releases.
To Pickle:
6
Combine onion, vinegar, sugar, and spices in a pan.
7
Bring to a boil, stirring well, over med-high heat.
8
Cover, reduce heat to med-low and simmer for 4-6 minutes until onion is tender-crisp.
9
Add sliced, peeled beets to pan. Stir.
10
Place beet mixture in a bowl and let stand, stirring occasionally, for 30 minutes.
11
CCP: Cool beets to a minimum of 41°F.
12
Serve beets strained, cold.
A Note on Preserving Foods:
Nutrition and food education begins with fresh, local foods and builds from there. Adding a pickled vegetable dish to your menus gives you an opportunity to educate your student customers on the various methods of preserving foods. There are many sites with history and facts on food preservation. Check out TheDehydratorBlog for a historical timeline and interesting facts.
Excerpt: "During the olden days, people in the Eastern countries where heat and humidity were high and preserving food was difficult, used unusual methods of preserving food. This includes wrapping foodstuffs in dried leaves and burying it in hot sands to dry further." 

Sharing a timeline of preserving techniques on a poster in the cafeteria, or on your meal lines, will help to create interest in your pickled veggie dish. Sharing common food preserving methods in a classroom demonstration with younger students, and then providing a taste test, gives you the opportunity to expose those students to the featured vegetable more than once. Success in the acceptance of a new vegetable relies on the number of exposures a child receives, and the amount of fun and interest you bring to the lesson!

Looking for a curriculum to share with teaching staff on Food Preservation? Try Kids Gardening curriculum here.
Nutrition Facts

100 servings per container

Serving Size

1/4 cup

Amount per serving

Calories

17

% Daily Value*

Total Fat

0 g

0%

Saturated Fat

0 g

0%

Trans Fat

0 g

Cholesterol

0 mg

0%

Sodium

9 mg

0.39%

Total Carbohydrate

4 g

1.45%

Dietary Fiber

0.4 g

1.43%

Protein

0 g

0%

* The % Daily Value (DV) tells you how much a nutrient in a serving of food contributes to a daily diet. 2,000 calories a day is used for general nutrition advice.
Save this recipe: