Equinox Lasagna
Author:
Adapted from Make It Local, Recipes for Alaska's Children
Recipe type:
Hot entree, HACCP Process 2 same day service
Cuisine:
An autumn version of a classic cold weather dish!
Prep time:
Cook time:
Total time:
This is an autumn foodservice recipe for Kale, fresh Herbs, Hard Squash, or Pumpkin.
USDA Meal Components: 2 oz Meat/Meat Alternate, ½ oz WGR grains, ¼ c dark green vegetable, ⅛ c red/orange vegetable
Cooking and Prep level: intermediate
Ingredients
7½ lbs Lasagna Noodles, whole wheat, oven ready
5 lbs 4 oz Italian Sauage, pork, bulk, no more than 35% fat
2 lbs 4 oz Kale, fresh, stems removed, chopped finely
10 lbs Butternut Squash or Pumpkin, pureed
7 lbs Ricotta Cheese, low fat (cottage cheese may be substituted)
1 (#10) can + 1-quart Marinara Sauce, low sodium, canned or fresh
7 lbs Mozzarella low fat, shredded
1 bu Basil, fresh finely chopped
2 Tbsp garlic powder
Pan Spray
Instructions
CCP: Preheat ovens: Conventional 350F, Convection 325F.
Combine chopped kale, garlic powder, chopped basil, and ricotta cheese. Set aside.
Brown the Italian Sauage in a large skillet, drain fat. Set aside.
Line up ingredients in this order on your workstation: marinara sauce, pasta, squash, ricotta mixture, sausage, mozzarella.
Coat (4) 12x20x12.5 hotel pans well with pan spray.
Layer each pan as follows:
oz marinara sauce, approx 7 lasagna noodles covering the entire surface of the pan, 20 oz pureed squash, 18.5 oz ricotta mixture, 8 oz sausage crumbles, and 14 oz mozzarella.
Repeat layers for each pan.
Spray foil cut to pan size generously with pan spray. Cover each pan with sprayed foil. Crimp edges.
Bake Conventional 1 hour, 15 minutes Convection 45 minutes.
CCP: Internal temperature 145F minimum for 15 seconds.
CCP: Hold at 135F through service.
Cut each pan 5x5 for 25 servings of lasagna.
Notes
NOTES
Don't be afraid of using local, fresh, hard squash and fresh pumpkin instead of canned or frozen product. After all, Illinois is one of the top growing states for pumpkin! Use this recipe from Alton Brown to utilize local pumpkin and squash.
Heat the oven to 400 degrees F.
Slice a small piece of skin off the one side of the pumpkin so when laid on its side, the pumpkin will lay flat without rolling. Remove the stem and split the pumpkin in half from top to bottom, using a large cleaver and a mallet. Scoop out the seeds and fiber with a large metal spoon or ice cream scoop. Cut the fibers with kitchen shears if necessary. Reserve seeds for another use.
Sprinkle the flesh with kosher salt and lay the halves, flesh side down, on a parchment paper-lined half sheet pan. Roast until a paring knife can be easily inserted and removed from the pumpkin, 30 to 45 minutes. Test in several places to ensure doneness.
Remove the half sheet pan to a cooling rack and cool the pumpkin for 1 hour. Using a large spoon, remove the roasted flesh of the pumpkin from the skin to the bowl of a food processor. Process until the flesh is smooth, 3 to 4 minutes. Store in the fridge for up to 1 week or freeze for up to 3 months.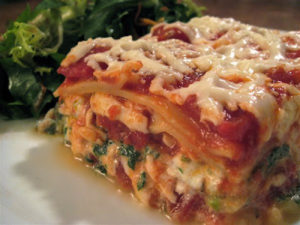 Nutrition Information
Serving size:
231 gms, 1 pcs
Calories:
354
Fat:
16.6 g
Saturated fat:
7.7 g
Trans fat:
0
Carbohydrates:
34 g
Sugar:
5.3 g
Sodium:
423 mg
Fiber:
4.7 g
Protein:
20 g
Cholesterol:
48 mg