BRUSSELS SPROUT CHIPS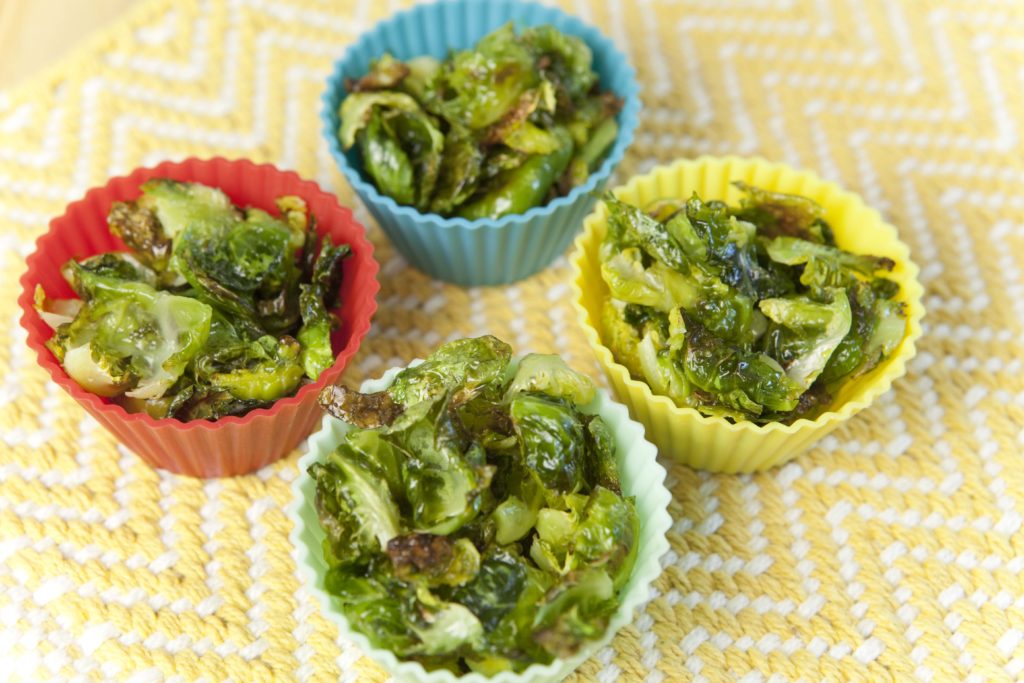 A great way to introduce kids to Brussels sprouts!This is an autumn family recipe for Brussels Sprouts.Cooking and prep level: Basic.
Prep Time

15 min

Cook Time

15 min

Total Time

30 min

Yield

4

Energy

45 cal

Related Curriculum?

[Enter here]
Cuisine

Course

Appetizer
Snack
Veggie Side Dish

Diet
Ingredients
15 medium Brussels sprouts, raw
1 1 /2 teaspoon olive oil
Method
2
With a small paring knife, cut off the bottom tip of each sprout. This will release the outermost leaves; put leaves in a large mixing bowl.
3
Continue to trim a thin slice more off the bottom stem, teasing each layer of leaves off, and adding them to the bowl. Stop when you have removed all the leaves and you are left with the heart or core of the sprout.
4
When you have removed all leaves you can, toss the leaves gently with the oil, sprinkle ever so lightly with salt.
5
Lay leaves in one layer on a rimmed baking sheet. During tossing, the leaves will want to cup together, so take care to remove them from nesting together as you arrange them on the baking sheet. They need to toast in one layer for best results.
6
Roast for 10-15 minutes, until leaves are lightly browned and crisp.
7
Check at 10 minutes, and remove any that you think are done, putting the rest back in for another minute or 2; check again and remove those that are done.
8
Remove from oven and enjoy while still warm!
For a twist on this recipe, sprinkle grated Parmesan cheese over Brussels sprouts before roasting.
Nutrition Facts

4 servings per container

Amount per serving

Calories

45

% Daily Value*

Total Fat

1 g

1.28%

Total Carbohydrate

6 g

2.18%

Dietary Fiber

2 g

7.14%

Total Sugars

1 g

Protein

2 g

4%

* The % Daily Value (DV) tells you how much a nutrient in a serving of food contributes to a daily diet. 2,000 calories a day is used for general nutrition advice.
Save this recipe: