GRILLED CORN AND CHERRY TOMATO SALAD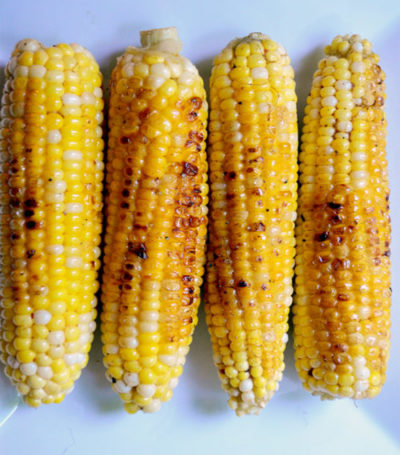 An exciting taste of late summer with a twist- grilled, seasoned sweet corn!This is a summer school food service recipe for Sweet Corn, Hot Peppers, and fresh Herbs.Cooking and prep level: Basic.
Prep Time

1 hr 30 min

Cook Time

20 min

Total Time

1 hr 50 min

Yield

100

Serving Size

1/2 cup

Energy

242 cal
Course

USDA Meal Components

¼ c starchy vegetable
¼ cup red/orange vegetable

Diet
Ingredients
22 lbs shucked Sweet Corn ears, fresh
6 Tbsps olive or Canola Oil
8 lbs 8 oz Cherry Tomatoes, fresh, cut in half
10 oz Onion, fresh, diced
2 Jalapeno Peppers, seed and membrane removed, minced
1½ cups Olive or Canola Oil
1 Tbsp Lime Zest (optional)
¼ cup Honey or Agave Nectar
¼ cup Cilantro, fresh, minced
1 Tbsp Smokey Mexican Spice Blend
Method
1
Sweet corn may be grilled or roasted, depending on your facilities capability.
2
CCP: Preheat oven: Convection 375 F, Conventional 400 F
3
Layout 2 -3 full sheet pans, depending on the size of the ears of corn. Drizzle 2-3 Tbsps of oil across each pan. Be sure to coat the entire pan.
4
Reserve 1 Tbsp of Smokey Mexican Spice Blend for the dressing. Sprinkle remaining Smokey Mexican Spice Mix across each pan, being sure to cover the entire surface.
5
Lay out corn ears on pans, rolling each ear to coat with oil/spice mixture.
6
Roast corn in oven for approx. 20-25 minutes, turning with tongs once during cooking.
7
CCP: Corn is done when it begins to caramelize and the internal temperature is 140 F or higher.
9
Slice a small piece off the end of each cob for stability, and stand cob upright. Cut downward with a sharp knife to remove kernels from cob. Place kernels in a large bowl or tote.
10
(This step may be done one day prior to service. CCP: store kernels at a minimum of 41 F.)
11
Assemble salad ingredients in a tote or bowl: Combine tomatoes, roasted corn, Jalapeno, and onions.
12
In a deep bowl, whisk 1½ cups oil, lime juice, and honey. Mix well to incorporate. Slowly add 1 Tbsp Smokey Mexican Spice Blend, then add the lime zest and chopped cilantro. Taste for seasoning and make any adjustments.
13
Gently toss salad with the dressing.
14
CCP: Hold salad at a minimum of 41 F.
Corn kernels are the fruits of maize. Maize is a grain, and the kernels are used in cooking as a vegetable or a source of starch.
One ear of corn contains roughly 800 kernels in 16 rows. One hundred bushels of corn can contain upwards of 7,280,000 kernels.
Nutrition Facts

100 servings per container

Serving Size

1/2 cup

Amount per serving

Calories

242

% Daily Value*

Total Fat

4.4 g

5.64%

Saturated Fat

0.6 g

3%

Trans Fat

0 g

Cholesterol

0 mg

0%

Sodium

330 mg

14.35%

Total Carbohydrate

49.3 g

17.93%

Dietary Fiber

6.6 g

23.57%

Total Sugars

27.2 g

Protein

2.8 g

5.6%

* The % Daily Value (DV) tells you how much a nutrient in a serving of food contributes to a daily diet. 2,000 calories a day is used for general nutrition advice.
Save this recipe: