LLAPINGACHOS (YOP-IN-GAH-CHO) POTATO CORN PATTIES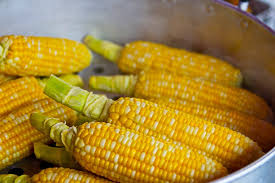 Llapingacho, an Ecuadorian street food, will be a big hit with students. Crispy and hot potatoes matched with sweet corn and melted cheese- perfect for lunch!This is a summer and autumn school food service recipe for Sweet Corn, fresh Herbs, and Potatoes.Cooking and prep level: Intermediate.
Prep Time

1 hr 5 min

Cook Time

20 min

Total Time

1 hr 25 min

Yield

100

Serving Size

1/2 cup (1 patty)

Energy

115 cal
Cuisine

Course

USDA Meal Components

Diet
Ingredients
43 med ears Sweet Corn, fresh husked (19 lbs kernels only)
11 lbs Yukon gold potatoes
2 lbs 8 oz Mozzarella cheese, part skim, shredded
2 bunches Green onions, thinly sliced
1 cup Parsley, fresh chopped
1 tsp Black Pepper, ground
Method
For the Sweet Corn
1
Oven Roast Method: CCP: Preheat conventional oven to 400 F. Convection oven to 375 F.
2
Spread ½ cup Olive or Canola Oil on 3 sheet pans. Place ears of corn on the unlined, oiled pans rolling each ear to spread the oil over the corn.
3
Roast for 15 minutes. Remove pans: roll corn ears to expose undersides, bake an additional 10-15 minutes until corn begins to brown and an internal temperature reaches 135 F. Remove pans from the oven, let cool.
5
For Boiling Method: Bring a large pot of water to boil. Cook corn until just tender, about 8 mins. Drain and let cool.
6
To cut corn off cobs: stand ear on its flat end on a cutting board. Cut off kernels with a sharp knife moving down ear.
For Potatoes
7
Scrub the potatoes and place in large pots covered with water. Bring to a boil over high heat, then reduce heat to medium and cook potatoes until tender but not mushy, about an hour. Remove from heat, drain.
8
Rinse the potatoes with cold water to stop them from cooking.
9
Let potatoes cool completely. Put the potatoes in the bowl of the mixer. Using the paddle on low speed, mash the potatoes until nearly smooth, but with some chunks remaining. DO NOT OVERBEAT.
For Patties
10
Add the corn, cheese, green onions, parsley, salt, and pepper to the potatoes. Mix on low speed until combined. (Be careful! If over mixed, it will become gummy.)
11
Lightly spray parchment-lined baking sheets. Using a #8 scoop, fill each pan with 24 servings, flattening each scoop to form a patty.
12
Bake for 15 minutes or until lightly browned.
13
CCP: Hold for hot service at a minimum of 135 F.
It is no surprise that potato is one of the main ingredients of llapingacho. The potato was first cultivated in South America by the Inca people. While the Inca Empire was inhabiting Ecuador, its people developed ways of preserving the potato and also discovered different techniques for preparing it.

The popularity of the dish soon extended past the highlands of Ecuador and eventually made its way to the provinces in eastern Ecuador and along the Ecuadorian coastline. As the dish spread, people visiting from overseas soon discovered it and, since that time, llapingacho has been cooked in different countries around the world.
Nutrition Facts

100 servings per container

Serving Size

1/2 cup (1 patty)

Amount per serving

Calories

115

% Daily Value*

Total Fat

2 g

2.56%

Saturated Fat

1 g

5%

Trans Fat

0 g

Cholesterol

6 mg

2%

Sodium

260 mg

11.3%

Total Carbohydrate

18 g

6.55%

Dietary Fiber

2 g

7.14%

Protein

5 g

10%

* The % Daily Value (DV) tells you how much a nutrient in a serving of food contributes to a daily diet. 2,000 calories a day is used for general nutrition advice.
Save this recipe: