ASIAN CABBAGE SALAD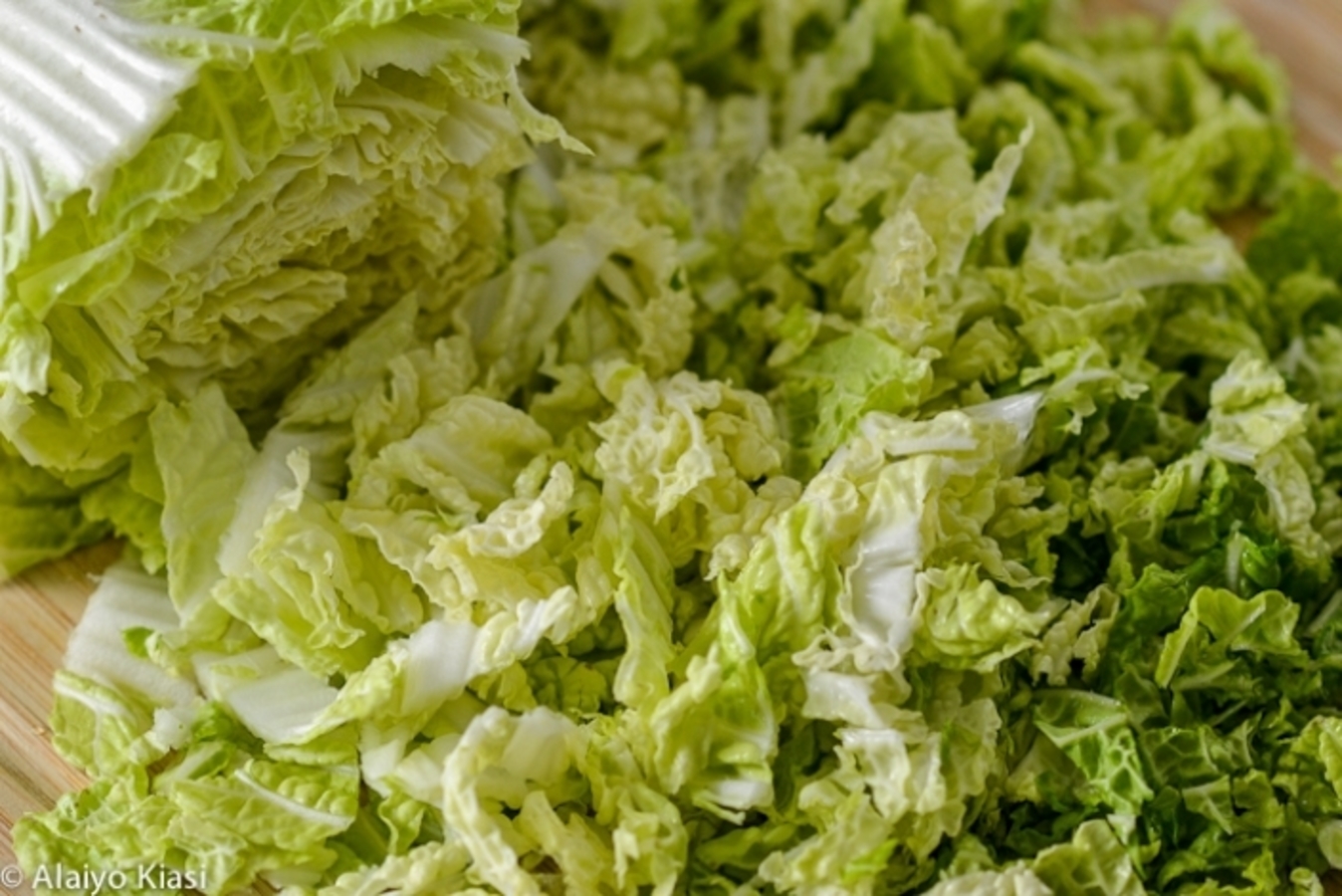 This salad is a celebration of cabbage, incorporating three different varieties in one tasty crunch! Napa Cabbage adds a milder, celery-like flavor to its green and red cousins.This is an autumn school food service recipe for Cabbage.Cooking and prep level: Basic.Adapted from: New School Cuisine, Vermont Feed
Prep Time

1 hr 15 min

Cook Time

5 min

Total Time

1 hr 20 min

Yield

100

Serving Size

1/2 cup

Energy

61 cal
Cuisine

Course

USDA Meal Components

Diet
Ingredients
7 lbs Cabbage, green, shredded
5 lbs 4oz Cabbage, red, shredded
5 lbs Cabbage, Napa, shredded
16 Scallions (green onions), small, trimmed and diced green and white parts
12 packs Ramen Noodles- flavor packs discarded
½ cup Soy Sauce or Tamari, low sodium
Method
1
CCP: Preheat oven: convection 350 F, conventional 375 F
2
Line a sheet pan with parchment.
3
Crumble Ramen noodles into a bowl. Add sunflower seeds, toss. Add vegetable oil and toss to coat evenly. Spread onto the covered pan.
4
CCP: Bake until browned, about 5 minutes, stirring once or twice while baking.
6
Place shredded cabbages, scallion, and carrots together in a large bowl or tub. Toss well.
7
CCP: Hold at a maximum temp of 41 F.
8
Whisk to incorporate vinegar, sugar, soy sauce, sesame oil, and pepper. Be sure sugar is completely dissolved. Set aside.
9
Just before serving, re-whisk the dressing and combine with cabbage mix. Add Ramen noodles, toss and serve with a #8 scoop for ½ cup serving.
Napa cabbage is widely used in China, Japan, and Korea. Napa cabbage is used as a sign of prosperity in China and often appears as a symbol in glass and porcelain figures. The Jadeite Cabbage sculpture of Taiwan's National Palace Museum is a carving of a napa cabbage variety. 
It was also found in North American, European and Australian cities after Asian immigrants settled in the regions.
In Korean cuisine, napa cabbage is the main ingredient of Baechu kimchi, the most common type of kimchi.
(Excerpt from Wikipedia, Napa cabbage.)
Nutrition Facts

100 servings per container

Serving Size

1/2 cup

Amount per serving

Calories

61

% Daily Value*

Total Fat

2.38 g

3.05%

Saturated Fat

0.33 g

1.65%

Trans Fat

0 g

Sodium

93.32 mg

4.06%

Total Carbohydrate

9.28 g

3.37%

Dietary Fiber

2.07 g

7.39%

Protein

1.78 g

3.56%

* The % Daily Value (DV) tells you how much a nutrient in a serving of food contributes to a daily diet. 2,000 calories a day is used for general nutrition advice.
Save this recipe: