Apple Cranberry Cole Slaw
USDA Meal Components: ¼ cup fruit, ¼ cup other vegetable
This is a November, January or March school recipe for cabbage or apples.
Cooking and Prep Level: Basic.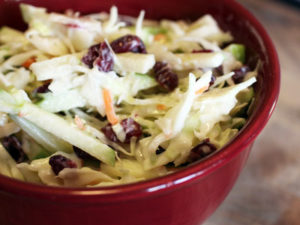 Author:
Adapted from Ashlee Gabrielson, Viroqua WI Vernon County Farm to School
Cuisine:
This is a crisp sweet and tart salad chocked full of cabbage, apples and cranberries!
Recipe type:
Cold vegetable/fruit side dish. HACCP Process: 1
Ingredients
7 lbs. 6 oz Green cabbage, shredded and chilled
6 lbs 8 oz Apples, Gala, 125-138 ct, chopped skin on
3 lbs Cranberries, dried
1 cup Lemon Juice, fresh
2 cups Oil, olive or canola
1 cup Vinegar, apple cider
1⅓ cups Honey
1½ cups Apple Cider, fresh
Instructions
Shred cabbage and refrigerate. Drain before combining.
Chop apples, place apples in lemon juice. Toss to coat to prevent browning.
Combine cold, shredded drained cabbage, apples and cranberries. Toss to mix. Set aside.
Combine vinegar, apple cider and honey. Whisk in oil to incorporate. Taste for seasonings, adjust ingredients if too tart or too sweet.
Add dressing to cabbage mixture, tossing to coat. Taste, adjust seasonings if needed.
Place in hotel pans, 1 for 50 servings, 2 for 100 servings.
CCP: Cool to a minimum of 41*F within 4 hours
CCP: Hold at a minimum of 41*F through service.
Portion: ½ cup #8 scoop
Nutrition Information
Serving size:
½ cup
Calories:
150
Fat:
4.7 g
Saturated fat:
.6 g
Trans fat:
0
Carbohydrates:
29.4 g
Sugar:
23.1 g
Sodium:
10.5 mg
Fiber:
2.8 g
Protein:
.7 g
Cholesterol:
0